Sharjah Media City

Free Zone (SHAMS)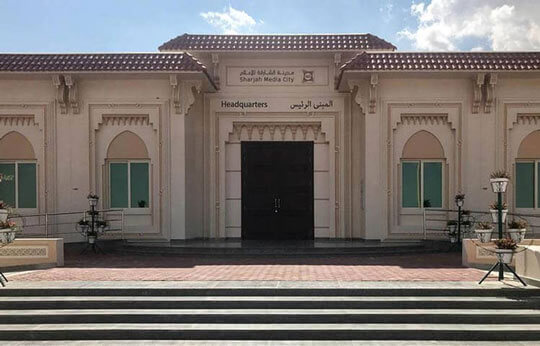 Sharjah Media City (SHAMS) is one of the fastest-growing Free Trade Zone in the Emirate of Sharjah. SHAMS offers a range of company licenses for investors to set up various businesses. Company Formation in Sharjah Media City is a lucrative business investment for global investors aiming to scale up their business in the UAE.
SHAMS offers the best media and digital company license packages at the lowest cost for AED 8,050 (Zero Visa Quota). Entrepreneurs in the creative, media, digital, and other fields can easily set up a company in SHAMS Free Zone.
Company Formation in Sharjah Media City is beneficial for the foreign investor in many ways. The low-cost business license, more than 2000+ business activities, sophisticated office spaces, easy company setup, 100% foreign ownership, etc., makes SHAMS a popular choice among foreign investors.
Sharjah Media City is located near the Sharjah International Airport making it easier for investors to facilitate global trade and operations. It is one of the most competitive Free Zones in the UAE in terms of offering Cost-effective Business Setup Packages.
Key Benefits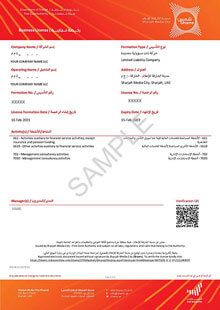 Company setup cost starting from AED 8,050
No need of Physical presence in the UAE to register your new company
No need of NOC to incoporate your company
100% foreign ownership
100% free transfer of funds
No restriction on capital repatriation
0% import or re-export duties
0% personal income tax
No restriction on hiring foreign employees
All documentation issued in 2 days
No paid up share capital or annual audit
All processes are easy, digital and very cost-efficient
Company Licenses

in Sharjah Media City Free Zone (SHAMS)
Service License
Service Company License from SHAMS enables foreign investors to establish services companies across a wide range of business service activities. The Free Zone has the required business infrastructure for establishing a Services company by taking a Flexi-Desk or shared office spaces or a fully customized executive office.
Trading License
Trade License permits selling goods within SHAMS or importing and exporting of goods to the mainland from the Free Zone to conduct the trade. The Trading License from SHAMS Free Zone enables the free movement of goods to and from the Free Zone after paying the required customs duties.
Industrial License
Industrial License in Sharjah allows the entrepreneur to establish a company and conduct business activities such as production, re-production, transformation, and manufacturing of goods. The strategic location of Sharjah Media City and its proximity to the Sharjah International Airport and the Khalid Port make it an ideal choice for setting up manufacturing units. There is a growing demand for industrial requirements in the region and investors can tap on the opportunity by obtaining an industrial license from Sharjah Media City.
How to select the
right business activity

in SHAMS Free Zone?

The Sharjah Media City offers more than 2000 business activities across the various business license types. The investor can choose from services, trading, and industrial license based on their desired business activity to set up a company in SHAMS Free Zone. The investor can choose the Service License from Sharjah Media City to render services to other companies and consumers in the Free Zone as well as globally. Sharjah Media City has a range of specialized service licenses ranging from consultancy, eCommerce, media, marketing, and more.

For entrepreneurs who are intending to open a trading company, the Trading License from Sharjah Media City is an ideal choice. The investors can involve in the import and export of goods as well as selling of the goods in UAE, GCC, and, the rest of the world by obtaining a trading license from the Sharjah Media City. To assemble, repackage, and re-manufacture or transform goods taking an Industrial License from SHAMS is the right choice. The Free Zone offers the required business infrastructure and easy procedures to set up a manufacturing unit.
Facilities

Available in SHAMS

Shams provides four facility options that are designed to serve your needs & requirements. Shared workplace facilities offered by Shams provide a co-working environment, which is a great solution for start-ups that want to interact with other like-minded people.
1. Dedicated Desk
It is assigned space for the entrepreneurs to work mindfully and focus on the core business alongside scope for networking opportunities. It is an adaptable space for work, meetings, networking, and collaboration. The modern, aesthetic, and practical setup make it a pleasant atmosphere for the investors to work and scale up the business easily.
2. Shared Desk
It is a common space shared by like-minded individuals. It also helps the investor to keep the overall company setup cost low. Choosing the Shared Desk provides the flexibility of mobility for the investor as there is no specific desk for them to work and based on availability can pick a spot. It is an ideal option for investors who are involved in constant on-site meetings with clients. SHAMS offers attractive business license packages along with an option to choose a shared desk for daily/monthly/yearly rentals.
3. Dedicated Office
It is an assigned lockable office space used based on individuals. Ranging from a single desk space or a group of desks, it offers a private workplace while empowering coordinated effort among people. The Dedicated Office Space enables the investor to operate the business activities with privacy and focus on the core business strategies. It is an ideal choice for entrepreneurs who are aiming to have a small team of employees and focus on business growth.
Sharjah Media City has a range of fully customized as well as Shell and Core Office types that investors can customize to their desire. Having a dedicated office space enables the business leaders to achieve higher business growth by focusing more on the strategic business areas and working towards it.
4. Shared Office
Shared Office Space in Sharjah Media City is a cost-effective option for the investors as they can keep the company setup and yearly rent cost low. It also provides more private space than a shared desk and it allows networking opportunities too.
Included with Facilities
| Facility | WiFi | Printer | Meeting Room | Access |
| --- | --- | --- | --- | --- |
| Dedicated Desk | ✔ | ✔ | ✔ | ✔ |
| Shared Desk Desk | ✔ | ✔ | ✔ | ✔ |
| Dedicated Office | ✔ | ✔ | ✔ | ✔ |
| Shared Office | ✔ | ✔ | ✔ | ✔ |
SHAMS
Creative Units
The Creative Units at Shams are intended to empower minds and inspire innovations among its residents. The efficient and ergonomic designs introduce a unique workplace to any organisation or individual hoping to grow and develop.
The facilities will include stand-alone offices, office studios, showrooms and community areas.
SHAMS Package Details -

Services / Consultancy / Trading License

Sharjah Media City offers the investors various Business License Packages for Services, Consultancy & Trading activities. The Licence Packages can be chosen according to Visa Quotas available as well as Yearly Licenses. Investors choosing a 2,3,5 Year License would be able to avail discounts on the Total License Package. Below are the details on the License Packages based on Visa quota and Yearly License Cost (Discounted Rates).
License Type

License Package Cost - Services / Consultancy / Trading

0 Visa Quota
1 Visa Quota
2 Visa Quota
3 Visa Quota
4 Visa Quota
5 Visa Quota
6 Visa Quota
1 Year (30% Discount on Visa Packages)

AED 8,050

AED 11,743

AED 12,863

AED 13,983

AED 15,103

AED 16,223

AED 17,343

Actual 1 Year License Costs

AED 11,500

AED 16,775

AED 18,375

AED 19,975

AED 21,575

AED 23,175

AED 24,775

2 Year License Packages (30% Discount)

NA

AED 23,485

AED 25,725

AED 27,965

AED 30,205

AED 32,445

AED 34,685

3 Year License Packages (30% Discount)

NA

AED 35,228

AED 38,588

AED 41,948

AED 45,308

AED 48,668

AED 52,028

5 Year License Packages (35% Discount)

NA

AED 54,519

AED 59,719

AED 64,919

AED 70,119

AED 75,719

AED 80,519
Note: Immigration Card and Facilities are not included in the no visa package. Shared desk facility is provided with visa packages.
Immigration Card & Visa

Cost
| Descriptions | Fee in AED |
| --- | --- |
| Immigration Card fee for 3 Years | 1,575 |
| E-channel Registration | 2,525 |
| Visa cost per visa valid for 2 years | 3,416 |
| Medical (*Urgent) | 690 |
| Additional allocation of visas | 1,680 |
* Additional AED 200 for VIP Medical Services.
Time span

for Entry Permit & Residence Visa

Entry Permit, Residence Visa, Entry Visa Cancellation & Residence Visa Cancellation processing timelines for both normal and priority applications is given below.
Transaction Types

Processing

Time Span

Entry Permit

Normal

3 - 4 working days

Priority

1 working days

Residence Visa

Normal

3 - 4 working days

Priority

1 working days

Residence Visa Cancellation – Investor/Partner/Employee

Normal

3 - 4 working days

Priority

1-2 working days

Entry Visa Cancellation – Investor/Partner/Employee

Normal

3 - 4 working days

Priority

1-2 working days

Resubmission - Entry Permit / Residence Visa / Cancellation

Normal

3 - 4 working days