Branding & Corporate Identity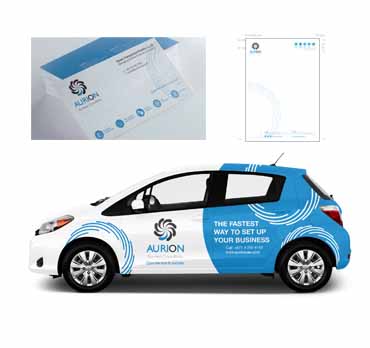 AURION Design Team has a unique standard in their creativity and designs.
Company identity is more than a name and logo. It describes the level of standard and potential of a Company. Corporate Design makes a Company stand out from the crowd by having its own Logo, Colour theme, Fonts, Website, Brochures and stationaries and gives a clear visual message to Clients & Customers.
After investing time figuring out the essence of your brand, we'll design an identity presence system that has the confidence to be fresh and memorable for tens of years to come. Providing our clients from startups to established brands, we create visual communications that illuminate the core values you are willing to provide your customers values that are unique, compelling, and defensible. Striving for what motivates your customers to eagerly choose you over your competitors.
We place your business objectives at the center of our design process to create an identity that people will recognise and remember.
Corporate Identity is a tool, ideas, methods and techniques that companies use to differentiate itself from the rest. A creative and strong corporate identity helps reinforcing brand recognition among the target audience. We offer corporate identity designing for logos, business cards, envelopes, letterheads and other relevant stationeries.
What
we do

?
Logo Design
Corporate identity Creation
Web Design & Development
Concepts, designs & layouts
Stationery / Collaterals design
Vehicle Branding.
Label and Package Designs
Interactive Presentations
Brochures and Flyers
Company Profile Creation
Newsletters
Signboards