Start-ups in Dubai – How to register a Start-up Company in Dubai?
Dubai, UAE is a perfect place for setting up a business in the Middle East. The start-up ecosystem in Dubai is growing and there are a lot of companies getting registered in the region as start-ups and striving ahead.
The Free Trade Zones in Dubai offer a perfect launchpad for start-ups to succeed. There are various competitive company setup packages tailored for entrepreneurs with diverse business requirements.
There are few start-up incubators in the Free Zones that will fund the business ideas and pump in capital for carrying the start-up forward until it reaches sustainability.
How to Register a Start-Up in Dubai?
Dubai has emerged as a Start-Up capital of the Middle East with a robust start-up ecosystem. It comprises infrastructure support, company laws, technology support, financial aid, and more. The Free Zones in Dubai plays a vital role in providing the required base for start-ups to thrive.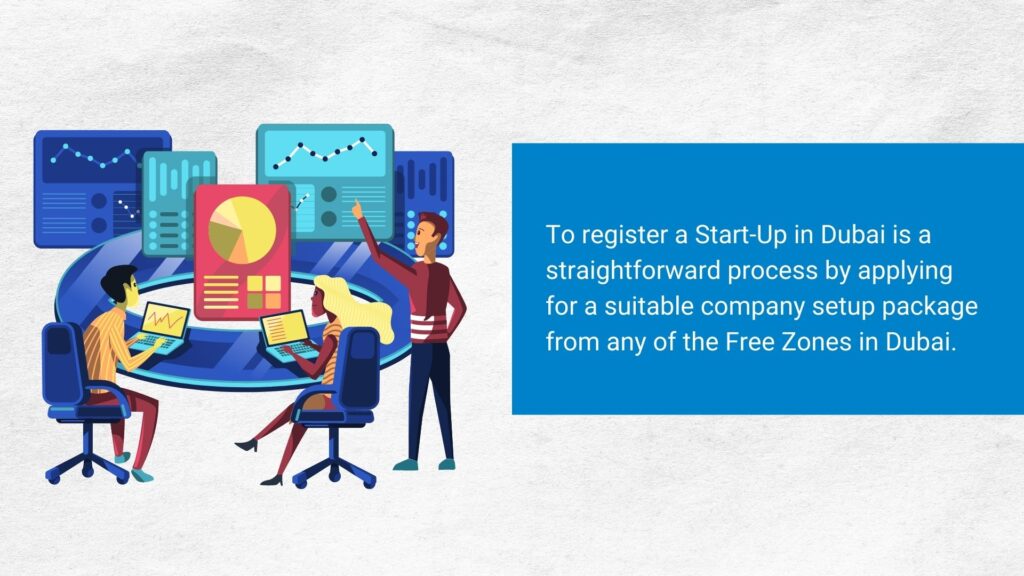 To register a Start-Up in Dubai is a straightforward process by applying for a suitable company setup package from any of the Free Zones in Dubai. The investor has to go through a defined process to obtain the business license and other clearances to kick off the business.
For an entrepreneur who is new to Dubai, it is advisable to get the assistance of a business consultant to pick the right option at the lowest cost and get all the paper works done the right way.
Steps to Register a Start-Up Company in Dubai?
To register a Start-Up company in Dubai one must follow certain procedures. Broadly the steps can be listed as:
Choose the right Free Trade Zone and get the Application form
Reserve a trading name for the company. It will be used in all future communication and branding activities
Choose the right business activity and company structure (Based on the number of Shareholders – FZE/FZC/ FZ-LLC) for the start-up
Select the right office space based on the business requirements. Ranging from co-working spaces to Flexi-Desks, and fully-furnished offices, the Free Zones in Dubai offers a wide choice.
Based on the business license the tenancy contract will be signed with the respective Free Zone and annual office rent will be agreed upon along with the business license cost.
Submit the required documents (Shareholder's passport copy and photograph) and the fee as per the company setup package and the chosen office space to obtain the business license.
Certain business activities would require special permits from the Authorities. For example, Healthcare/Pharma companies require approval from Dubai Health Authority to conduct business in Dubai.
Apply for a UAE Residence Visa and open a Corporate Bank Account using the newly formed company documents.
Top Free Zones in Dubai that offer start-up packages in UAE
1. Dubai Airport Free Zone, DAFZA
Dubai Airport Free Zone is a prestigious Free Trade Zone in Dubai offering an exclusive company setup package for investors to easily scale up their business establishment. Entrepreneurs have a wide choice starting from a 6 Sq.m Flexi-Desk to a 50 sq.m office.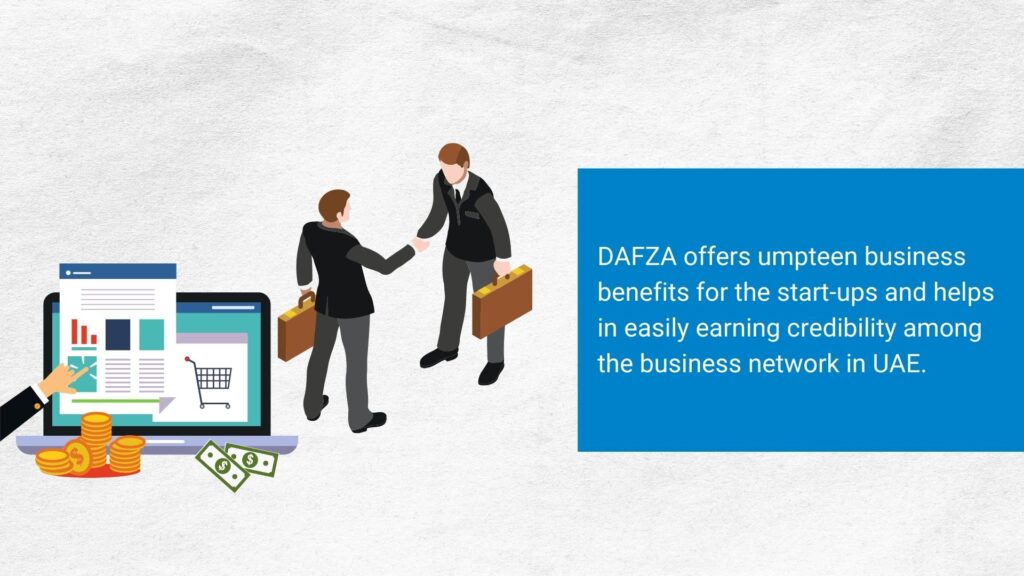 DAFZA offers umpteen business benefits for the start-ups and easily earns credibility among the business network in UAE. The Free Zone hosts a lot of business networking events to empower the companies based in the Free Zone with the latest market trends.
2. Dubai Technology and Entrepreneur Center, DTEC
The Dubai Technology and Entrepreneur center is a start-up hub for newbies in the field of technology. The Digital Park offers perfect infrastructure support to start-ups to test and launch their products and services.
The Free Zone also offers a business incubator service for funding and mentoring start-ups and make them self-sufficient. DTEC offers attractive company setup packages for investors to set up their base in Dubai in the most hassle-free and cost-effective way.
3. Dubai Multi-Commodities Center, DMCC
DMCC is a popular business hub of the UAE with a large business network and ecosystem. It is spread over a large area with a long list of large and small companies operating there daily.
It is a start-up hub and a technology center. A lot of entrepreneurs have set up their base in DMCC and testing their products in the UAE market. DMCC offers cost-effective company setup packages for the investors to set up a company in the region and expand.
Ranging from Gold Trading to Crypto License, DMCC offers a host of business activities for investors. There is a huge range of office spaces to choose from starting from shared desks to fully customized office areas.
4. Dubai Silicon Oasis – IFZA Dubai
Dubai Silicon Oasis -IFZA Dubai is a relatively new free zone with ample business infrastructure for start-ups to thrive. It offers one of the most competitive company formations cost in Dubai. The company setup cost in IFZA starts from AED 13,500 for one visa quota business license.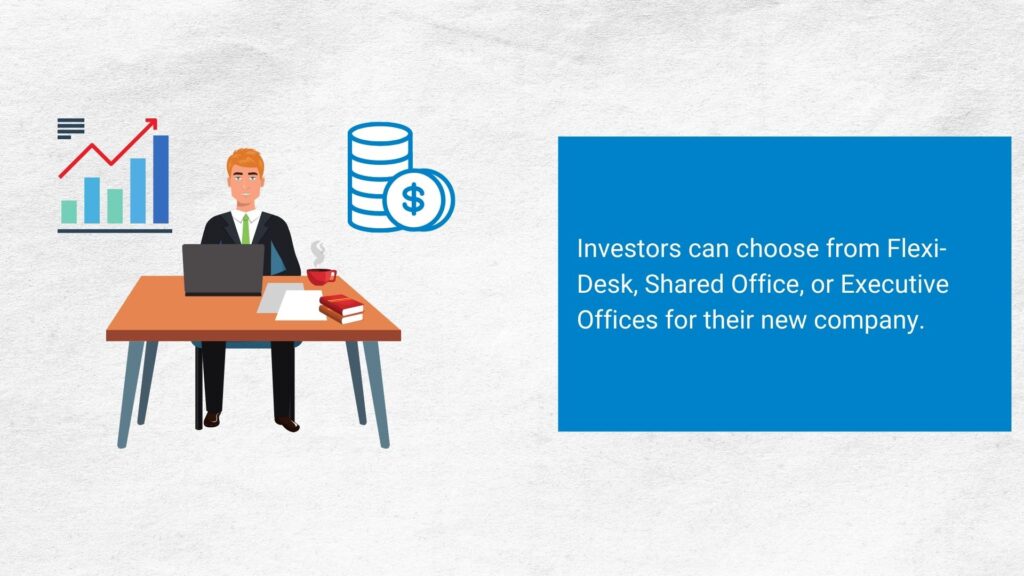 Investors can choose from Flexi-Desk, Shared Office, or Executive Offices for their new company. IFZA has a dedicated in-house immigration channel for the quicker company formation and visa stamping process.
IFZA offers one of the lowest-cost company setup packages in UAE to investors. The 100% foreign ownership, low-cost company setup, low tax rates, global trade network, etc., make IFZA the perfect choice among investors.
5. Mainland Business License
The instant license from the mainland helps to keep the company setup cost at an all-time low. It helps entrepreneurs to start their business venture with very less overhead cost.
The instant license from the Department of Economic Development is a one-year virtual license without any office space requirements for the first year. However, from the second year onwards for the renewal, the investor would require to take an office space to continue the chose business activity.
To set up a business in the mainland the investor can also opt for the most popular company structure the Limited Liability Company (LLC). Now with 100% foreign ownership in the mainland, this option seems attractive for most of the ex-pat investors in UAE.
To know more about opening a start-up in UAE, talk to our expert team right away!
Contact Us: Aurion Business Consultants