VAT & Accounting Services

in UAE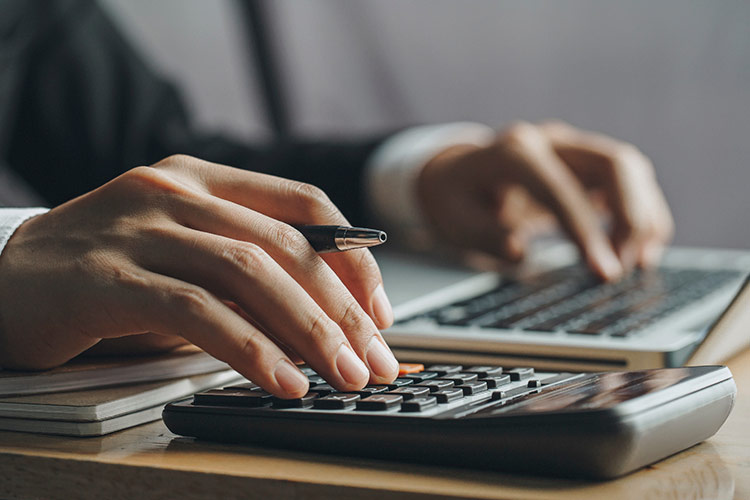 With the UAE VAT tax reforms introduced in 2018, all companies in the UAE are subject to VAT registration and filing periodically. The Federal Tax Authority of UAE will act as the governing body for all VAT regulations and compliance.
The UAE and other GCC countries have introduced Value Added Tax (VAT) since 2018. Currently, there is 5% VAT for all transactions in UAE with exemptions on certain services like local transport, selected financial services, bare land, etc.
General Criteria for
VAT Registration in UAE
A business must register for VAT if its taxable supplies and imports exceed AED 375,000 per annum. It is optional for businesses whose supplies and imports exceed AED 187,500 per annum. By end of 2018, all companies in UAE are voluntarily required to register for VAT even if their annual revenue is less than AED 375,000 per annum.
The VAT is charged at each step of the supply chain. The end consumers generally bear the VAT cost while Businesses collect and account for the tax, in a way acting as a tax collector on behalf of the government. Companies have to keep a record of their financial transactions and ensure the accounts are audited periodically so that they stay compliant with the VAT regulations and avoid any default.
Documents Required

for VAT Registration in UAE
Trade License of the company
Certification of incorporation or registration certificate
Article of association/partnership agreement or any other document indicating business ownership
Manager profile
Passport copy and Emirates ID of manager
Physical office location of the business
Contact details
Bank account details and statements
List of businesses of the directors/partners in UAE for the last 5 years with their trade license copies
Along with the required documents, there are few declarations to be submitted by the company to obtain the Tax Registration Number and complete the Tax Registration process in the UAE.
List of Documents
Stating Declarations

About
Business activities of the applicant
Actual or estimated financial transaction values
Annual Turnover of the previous year with supporting documents
Details of expected turnover in the next 30 days
Import/export transactions
List of GCC activities of the business
Details about customs registration
How
Aurion

will help you?

Starting from giving awareness about VAT guidelines to the VAT registration and VAT filing, Aurion offers comprehensive assistance and end-to-end services in the field of VAT & Accounting. Our VAT team is equipped with all the latest norms set by the Federal Tax authority as well as a competent enough to deliver quick and accurate VAT assistance irrespective of the business you operate.
Tax Consultation and Accounting Services

in UAE
Accounting Services

in UAE

You can benefit from our expertise in all areas of financial planning, accountancy or business development and realize your potential for financial growth. Handing off your bookkeeping burden to Aurion will allow you to focus on the core issues of your business, such as growth. Having accurate accounting of your books will allow you to make more informed decisions concerning your business.

Our standardized processes streamline and improve your accounting practices. Our talented team is experienced with all the major accounting software programs such as QuickBooks, Peachtree, Quicken, Tally, etc. Our accounting services are unique in our region, delivering proactive business support, excellence in multilingual communication and the highest standards of confidence in reliability and compliance.

Whether you are a straightforward start-up business or an established business with complex controlling and reporting structures, our services are always tailored to your needs and delivered with equal enthusiasm. Our management accounting is tailored to your business requirements and may be as complex as your group reporting requirements demand.
Scaling to meet your volume requirements
Providing unparalleled logistics and order processing support
Integrating with external logistics, document processing, and other applications
Integrating with your banks for bidirectional electronic data transfer
Aurion will be your trusted partner in the field of VAT & Accounting. You can focus on your core business activity while we work for your VAT Registration, VAT Return Filing, Accounting and Book Keeping Service with utmost precision and quality.
Audit Reports

for Free Zone Company Renewals

Aurion provides an exclusive Audit Report Service for Free Zone companies in the UAE for business license renewal, bank account opening, and company closure. Based on business jurisdiction, the audit requirements vary. Most of the Free Zones in the UAE requires the companies to perform an audit and submit the audit report at the time of business license renewal.

Also, at the event of company closure, the free zone companies are required to have a company closure certificate / liquidator certificate that is prepared after conducting an audit on the company's financials.
Maintain your
Business Records

at the Most Transparent Way

Maintaining your company's financial reports are very critical to track the growth as well as avoid any penalty and misrepresentation of funds. Aurion will prepare accurate and precise audit reports for your company that could be used for various purposes like free zone business license renewals, bank account opening, company closing, etc.

Our Audit experts will analyze your business transactions, balance sheets, and financial reports and prepare audit reports that are 100% complaint to the UAE business laws.

Being an ISO 9001:2015 Certified Consulting company we practice continuous improvement and quality of service in all our assignments. We offer ultimate security in terms of protecting your business information through our indigenously developed Office Management System.

Also, using Aurion Mobile App, receive an instant notification on your VAT registration, VAT Return filing & Accounting assignment status in real-time. Our expert consultants are always available for you to connect with!

For any further assistance on VAT & Accounting, reach out to our experts right away!