Masdar City

Freezone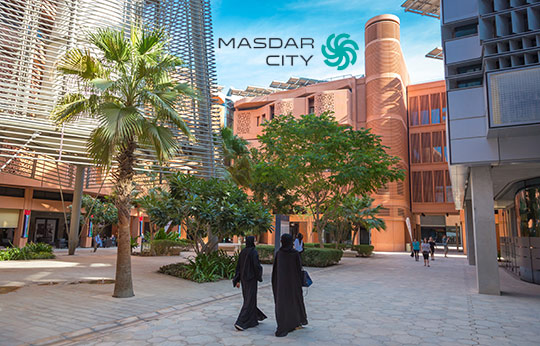 Masdar City Freezone is established in 2006, by the Mubadala Investment Company, wholly owned by the Abu Dhabi Government.
Masdar City is an emerging global hub for companies focusing on clean technologies and renewable energy. It is aimed at providing the infrastructure facilities to develop commercially viable renewable energy projects in the MENA and International markets.
Masdar City Freezone
Business Setup Process
Masdar City is an Economic Freezone that offers a hassle-free company set up with a host of benefits for the investors. The Masdar Freezone offers a one-stop solution including company registration, licensing, support services, leasing & development options for its investors.
Company Setup

Options in the Masdar City Freezone

Masdar City offers quick and cost-efficient company registrations for clean energy startups, global players working on renewable energy, environment-friendly products, etc.

The companies registered in Masdar City is governed by the Masdar City Companies Registration Regulations. The businesses are registered in the Masdar Freezone under 3 legal entity types:
Freezone Limited Liability Company (LLC)
Branch of a Foreign/ Offshore Company
Branch of a UAE-based Company
Masdar City Freezone acts as a test-bed for companies focused on renewable energy research and development of products and services that helps in conserving energy and reducing the global Carbon footprints. The Masdar City is made up of four interconnected business units, including research-driven Masdar Institute University to promote research, development, and innovation in the region.
Masdar Power - Handles the energy projects in Masdar City and other projects in the UK and Seychelles
Masdar Institute of Science and Technologies - Non-Profit making education institution that focuses on alternative energy sources and clean energy.
Masdar Carbon - Focused on clean development mechanism projects and carbon capture and store
Masdar Venture Capital - An investment that supports creating clean energy and environment services
Business Benefits

for the Investors

The business-friendly features of Masdar City are complemented by the State-of-the-art technology infrastructure, world-class business facilities, research & development centers, and liberal investment regulations.

Following are the business benefits from the Masdar City Freezone.
Quick Business Registration Process
100% Foreign Ownership
100% Tax-Free
Profit Repatriation
0% Import Tariffs
Good Transport Links
Cost Effective Licensing Options
Knowledge and Talent Pool
Research & Development hub
A one-stop shop for all business support services
Facilities and Business Support

Services in the Masdar City Freezone
Office Space
Office spaces that cater to all sizes of businesses from Startups, to SMEs and Global Companies. Masdar City includes co-working spaces, Flexi-desk offices, executive offices, and Shell & Core type.
Land
Companies can choose between buying or leasing land to develop projects that will support the overall growth of the Freezone with energy efficiency and sustainability at the core.
Build to suit
Large organizations can join with the Masdar City to build commercial, retail, residential, recreational, educational, healthcare spaces.
Additional Benefits
Setup headquarters or regional representative and marketing offices in a global investment hub
Showcase new technologies in renewable energy and sustainable technology
Use the facilities to experiment and test new ideas and innovations
Conducts research in collaboration with the Masdar Institute of Science and Technology
Setup research, development facilities for experiments and testing.
Be part of the Green Initiative and build a sustainable business model with sustainability as its core
Business Categories

at the Masdar City Freezone
Renewable Energy
Clean Tech and ICT
Marketing and events
Human Resources
Energy Industry
Healthcare Services
Service Providers
Property Development Services
Regional HQ, Trading and Holding Companies
Business Centres and Data Centres
Oil and Gas Services
Retail, Food, and Beverage
Business Support

Services
Visa services, including medical checks
Dependents Sponsorships
Abu Dhabi Chamber of Commerce membership
Emirates ID card Processing
Customs Administration
Document Authentication
PO Box Setup
Facilities and Property Management
Meeting Room and Conference Facilities
Process of Business Setup

in the Masdar City Freezone
Filling up the Name Registration Form and initiate the Payment
License Form to be filled and submitted with required documents
Receiving the Acceptance Letter
Opening a Bank Account
Acquiring the License and Signing the Lease
Aurion Business Consultants will help you in a hassle-free business setup in the Masdar Freezone. Our expert business consultants will handhold you throughout the company registration process in the Masdar city.