Meydan Free Zone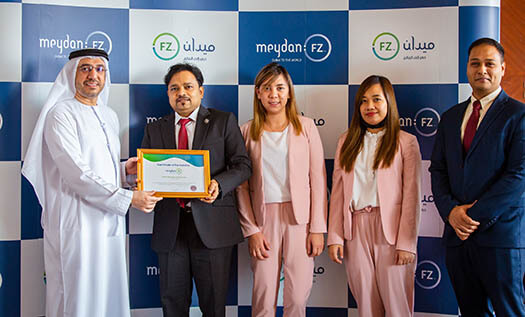 Meydan Free Zone is the latest addition to the growing list of Free Trade Zones in Dubai. It is located in the Meydan hotel complex. The Meydan Hotel is a prime destination for international tourists and travelers. The Dubai World Cup (Horse Race) takes place at the Racecourse every year. The hotel is one of the major business networking hubs in Dubai.
The Meydan Free Zone offers a cost-effective company formation packages in Dubai. It is one of the most competitive Free Zone for investors aiming to start a company and settle down in Dubai.
Investors can benefit from numerous business incentives the Free Zone offers such as:
100% foreign ownership & full profit repatriation
A wide range of business activities
No currency restrictions for doing business
No restriction in hiring any nationality as staff
World-class technology infrastructure & Banking support
No import-export tax, and more
The Free Zone offers a range of co-working and Flexi-desk facilities for investors to easily launch their business in the UAE. Investors can get a No-Objection Letter from the Free Zone Authority to take up an office space outside of the Free Zone premises anywhere in Dubai.
Why
Setup a Company in Meydan Free Zone

?

Choosing Meydan Free Zone for setting up a company in Dubai offers the investors many benefits and incentives. The Free Zone is an emerging business and networking hub in UAE. Following are a few highlights of the Free Zone.
Strategically located in the Meydan Hotel – A top choice for world events, entrepreneurs, and international tourists
Located adjacent to the growing logistics corridor of Dubai and proximity to the Dubai International Airport
Top-class infrastructure facilities for setting up a company – Coworking spaces, In-house Banking Application – MeydanPay, Instant Digital Bank Account opening, and more
Growing business and networking hub with immense opportunity for collaboration for investors
More than 2,500 business activities for the investors to choose from for their business
Faster Trade License processing with minimal documentation requirements
No Objection from Free Zone for taking office space outside of the Free Zone premises in Dubai
Easy opening of Bank Account and UAE residence visa processing
License Types

in Meydan Free Zone

Meydan Free Zone offers three major types of business license types to entrepreneurs. Under each of the business license types, there are numerous business activities that investors can choose depending on the nature of their business.

Following are the major Business License types Meydan Free Zone offers the Investors
Consulting License – For service type companies, HR consultancy, finance consultancy, etc.
Commercial License – For trading, light manufacturing & packaging companies
Media License – For digital, website, software development, creative & art, and more
Meydan Free Zone is the right option for startups and entrepreneurs to start a company at a reduced cost. It is a perfect choice for investors who wants to open a company in the Dubai Emirate at a cost-effective rate.
Entrepreneurs can set up a single shareholder company, Free Zone Limited Liability Company, Branch/Subsidiary of a foreign company in the Free Zone. The Free Zone authority allows adding up to 7 shareholders and mandates the appointment of a manager/director for an FZ-LLC Company.
Documents Required

for Setting up a Company in Meydan Free Zone

Company Setup in Meydan Free Zone is a streamlined process with minimal documentation. The investors can submit the below documents to easily register their company.
Investor Passport copy and Photograph
Company Name for Approval ( 3 choices)
CV of the Investor/ Manager/ Director
Meydan Free Zone
Company Setup Process
Meydan Free Zone Company Setup follows a set of processes that the investor has to follow. Aurion will handle the company setup process end-to-end on behalf of the investor and ensure the trade license is issued within 2 to 3 Working Days.
The process of setting up a Company in Meydan Free Zone follows the below steps
Choosing the Trade Name for the Company ( Submit 3 names for the name selection)
Choose the required business activity depending on the nature of the business operations
Submit the application form along with the investor's passport copy & photograph
Make the required fee payment based on the chosen company license type, business activity, number of years, and office requirement
Obtain the trade license from the Free zone and proceed to apply for the investor visa. Team Aurion will assist you in this step
Get assistance on Bank Account Opening and setting up of MeydanPay for all new business setups
Meydan
Business License Package Cost
Meydan Free Zone offers business licenses at cost-effective rates. The Free Zone offers Flexi-desk packages along with the Trade License for the investors. There are Multi-Year Business License Packages available in Meydan Free Zone at 15% discounted fees.
Descriptionh
Visa Quota
Cost (AED)
Business License without Visa
Zero Visa
AED 12.500
Business License with 1 Visa
One Visa
AED 14,350
Business License with 2 Visa
Two Visa
AED 16,200

'Pay As You Go' by simply adding visa allocation for AED 1,850 each for up to 6 visas.
How will
Aurion

Assist Investors?

Aurion will assist investors in the end-to-end process of company formation in the Meydan Free Zone. The expert team of Aurion will handle the banking, visa, legal & licensing formalities adhering to the Commerical Companies Law and other Free Zone guidelines.

Investors can focus on their core business activities while team Aurion takes care of the administrative tasks. AURION is a One-Stop-Solution for all the investor's company formation requirements.

To know more about the company formation process in Meydan Free Zone, connect with our team right away!