DUQE

Free Zone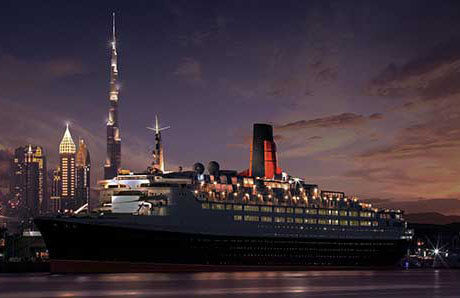 DUQE Free Trade Zone is one of the newest startup and business hubs in the UAE. It is located at the Queen Elizabeth 2 Ship which is permanently stationed in Port Rashid. Starting a company in DUQE is an ideal option for business owners due to its strategic location, cost-effective packages, business infrastructure, etc.
The Free Zone is on the Mezzanine floor of the iconic world attraction and houses large meeting rooms, shared office spaces, and premium executive cabin-type office spaces. Starting a company in DUQE will enable the investors to get many benefits the Free Zone has to offer. Company Setup in DUQE Free Zone starts at AED 12,500 for a Zero Visa quota.
It is an ideal choice for startups and entrepreneurs who wants a Dubai Address in an iconic location. Docked at Port Rashid, it gives a panoramic view of Dubai City on one side and the harbour and sea on the other side.
DUQE offers numerous company setup options for entrepreneurs. They can choose from a wide variety of business activities and office spaces to start a company with ease. Company Setup in DUQE Free Zone follows a set of steps and AURION will guide the business owners the right way. Our team will coordinate with the Free Zone and the investor on the company setup process.
DUQE

– Steps to Start a Company

For starting a company in DUQE the investor must follow the below process. The Company Setup in DUQE Free Zone involves a few sets of documentation that AURION will assist the investor in completing the right way.

Company Setup in DUQE will enable the investor to conduct business in UAE and abroad in the chosen business activities. To start a Company in the DUQE Free Zone:
The business owner must choose a trade name for their new company
Select the desired business activity from the list of available activities
Choose the right business license – commercial, Professional Services, Industrial
Take an office space available based on the business requirement – Co-Working, Shared Office, Executive Office
Prepare the contract agreement for the office space lease from DUQE.
Submit the shareholder details, profile, photograph, and passport copy to the DUQE Free Zone Authorities for verification
Get the initial approval for starting the company in DUQE Free Zone
Make the Company Setup Package Fee Payment for processing the Trade License and other company documents such as the Memorandum of Association, special approvals (if any), etc.
 Once the Trade License is obtained, proceed to apply for the Investor visa and get the UAE Residence Visa valid for two years.
Open a Corporate Bank Account in UAE for the newly opened company at DUQE Free Zone
Business owners can follow the above steps to start a company in DUQE Free Trade Zone. Aurion will guide the investors throughout the process of company setup in DUQE. AURION will coordinate with the business owner at every step of company setup in DUQE to ensure it is progressing the right way.
Starting a business in DUQE Free Zone paves the way to endless opportunities for the business owner. There are numerous business activities across various business license types in DUQE. The cost-effective company setup packages help investors to keep their company setup cost low during the process of starting a company in UAE.
License Cost

in DUQE Free Zone

The investor can start a professional services company in Dubai most cost-effectively by starting a company in DUQE Free Zone. The company Setup cost for a professional service with a 1 visa quota at DUQE is AED 14,250.

Similarly, the business owner can choose from general trading, light manufacturing, etc., and start their dream company in Dubai at a cost-effective rate. DUQE has a limited-time All-Inclusive Package with Visa & Flexi-Desk Office Setup for AED 19,500.

Business owners can avail of the All-Inclusive package and get a host of business benefits such as:
Trade License with the option to choose up to 3 business activities in the single Trade License.
Office Space – Shared Desk or Flexi-Desk with lease Contract for 6 months
Immigration & Establishment Card Fee inclusive for processing of UAE Residence Visa of the investors and employees
Worker protection fee and company stamp
Company Setup in DUQE will help business owners easily start their business operations in UAE. It is an ideal choice for Consultants, Marketers, service Professionals, etc., due to the location. Business owners can invite their clients to the Queen Elizabeth 2 Ship.
The QE 2 Ship has numerous Five-Star Restaurants, conference rooms, 5-star accommodation facilities, and more. DUQE is the perfect hub for building business networks and hosting business events.
DUQE –
Standard Fee Packages
The DUQE Free Zone has a host of Company Setup Packages with multiple visa quotas and office space facilities. Depending on the business requirements the investor can choose the right Company Setup Package.
The Company Setup process in DUQE is quick and easy with Aurion. The team will guide the investors in choosing the right company setup package. Business owners can start operating their businesses in no time without any hassle.
Visa Quota
Amount in AED
Inclusion
Zero Visa
AED 12,500
1 Visa
AED 14,250
2 Visa
AED 16,000
3 Visa
AED 17,750
Trade License
4 Visa
AED 19,500
3 Business Activities / Trade License / Lease Agreement
5 Visa
AED 21,250
6 Visa
AED 23,000
Value-Added Services

from DUQE Free Zone

DUQE Free Zone provides the right platform for a startup to scale up successfully. It offers cost-effective company setup packages that make it easy for a new entrepreneur to start their company in Dubai with a low initial investment.

Beyond that, DUQE Free Zone also offers a host of Value Added Services for entrepreneurs at various stages of their business journey. As they continue with DUQE, companies can get more of such benefits and together build a growing business community in the UAE.

Following are a few of the major Services DUQE offers to the business owner as part of their Value-Added Services:
Accounting
VAT Registration
Bank Account Opening
Medical & Emirates ID
Health Insurance
Business Center
Businesses will be requiring these value-added services at various stages and DUQE will provide these additional services to the investors on demand. Aurion will help in coordinating with the investors in availing of the Value-Added Services from DUQE for their businesses as required.
Our Business Consultants will assist and guide investors in company setup and beyond for fulfilling all the business-related requirements always.
How
Aurion

will Support?

Aurion will provide 360-degree business support to investors when it comes to company setup in DUQE. From choosing the trade name or handing over the trade license and facilitating the value-added services, the Business Consultants at Aurion will support investors at every stage.

Investors can seek assistance from Aurion to set up their company in the DUQE Free Zone the right way. There are various steps involved in starting a company in DUQE and the team will provide the right guidance and facilitate each step diligently so that the investor gets the trade license at the earliest.

To know more about starting a company in DUQE, talk to our expert Business Consultants right away!