How to Apply for Residence Visa in UAE – Types of UAE Residence Visa Explained
There is no better time to settle down in UAE for the ex-pat population with their family. UAE is offering long-term residence visas, green visas, freelance visas, etc.
The investor visa is one of the most preferred visa options in the UAE among entrepreneurs. The investor visa validity in the free zone and mainland is 2 years. One of the cheapest residence visa in UAE is available from the free zones in Sharjah. The Visa cost for an investor/ employee in Sharjah based Free Zones range from Approx. 3,500 to 4000 AED.
The 100% foreign ownership, no income tax and corporate tax, full profit repatriation, favorable business environment, etc., makes Dubai a perfect choice for business investment and establishing a company.
There are many cheapest residence visa options available across the Free Zones of UAE. There are few special offers where one residence visa cost is waived off too. Taking the cheapest residence visa in UAE will help investors to keep the overall business setup cost low.
Types of UAE Residence Visa for Expatriates
There are many ways in Dubai to obtain a residence Visa. Following are few resident visa options that ex-pats can avail of themselves in the UAE.
1. Free Zone Business License
The easiest way to get a residence visa in UAE is by starting a small business by obtaining a single visa quota business license from anyone Free Zone in UAE.
The Free Zones in UAE offer virtual business licenses to investors with Flexi-desk, and co-working spaces for conducting their desired business activity through obtaining the business license.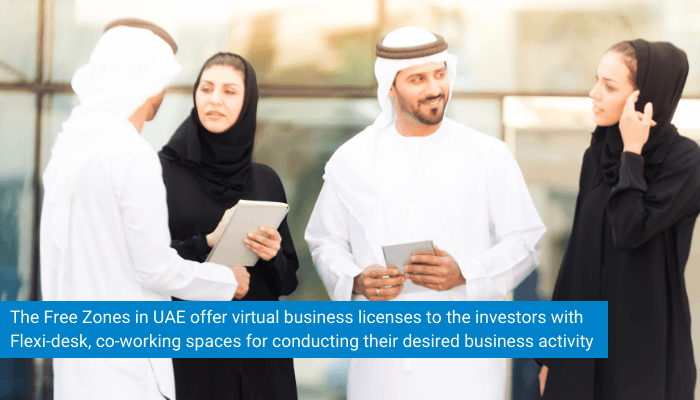 The Free Zones in UAE are a vital part of economic growth. Despite the Pandemic, there are significant new company registrations recorded on various Free Trade Zones in UAE.
It is a secured business jurisdiction and offers UAE residence for company owners, and employees under a company registered in the respective Free Zone as well as provides all required infrastructure facilities for the business to thrive.
2. Mainland Company License
For investors aiming to venture into the mainland of UAE and actively expand their local business, a mainland company license is the right choice. Start a Limited Liability Company in the mainland of Dubai, take an investor visa, and sponsor employees and thrive the business.
Mainland business has many advantages for investors. With 100% ownership for expatriates, easy bank account opening, lower rental expenses, flexibility to expand, etc., LLC Company formation is one of the investor favorite choices.
3. Freelance Permit
For young entrepreneurs who want to start their business for the first time or try out the UAE market before going full-fledged by opening a company, getting a Freelance Permit is an ideal choice. It is a type of self employment visa as the Freelancer is all on his own when it comes to conducting the business activities.
There are few Free Zones in UAE that offer Freelance Permits for various business activities. The Freelance Permit will be issued for a person and it won't be a company. The Self Employment Visa will be available from the respective Free Zone for the entrepreneur. The Self Employment Visa will be for two years (renewable) sponsored by the respective Free Zone.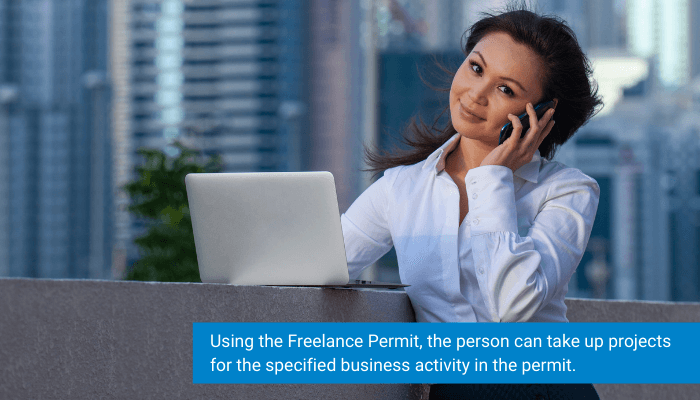 Using the Freelance Permit, the person can take up projects for the specified business activity in the permit. They can also apply for a UAE residence visa and sponsor dependents for 2 years which is renewable.
There are affordable Freelance Permits offered by the Free Zones in UAE that freelancers can apply.
Freelance Permits from SHAMS free zone start at AED 5,740. Similarly, there are other Free Zones such as Ajman Free Zone, Umm Al Quwain Free Zone, etc., that offer Freelance Permits at an affordable free for entrepreneurs.
4. Golden Visa
UAE has announced full-fledged long-term visas for expatriates to continue their tenure and contribute to the economy by being in the UAE.
It is also aimed at retaining the best talent in UAE and generate more business opportunities and business growth. The Long term residence Visa is not tied up to an employee as the sponsor and the individual will have a 5 to 10-year visa in UAE that is subject to renewal.
The Golden Visa will enable significant foreign investment from global investors who are aiming to make Dubai their home for the long term and will boost the economic outlook.
The strategic industries of UAE such as tourism, real estate, commercial, etc., will get talented employees, more foreign investment, and achieve business growth through long-term golden visas.
5. Green Visa
To further strengthen the economy, create more job opportunities, and retain global talent in UAE, the Government has introduced the Green Visa. There are a lot of benefits in terms of visa rules such as:
Staying in UAE without a job for 3 to 6 months
Self-employed people can sponsor themselves and family without the need of an employer
Sponsor parents and children up to the age of 25, and more.
The recent amendments in the UAE residence laws are for encouraging the expatriates to stay in the UAE and contribute more to the economy. UAE has launched numerous residence visas and other supportive programs for expatriates to easily live, work, and study in UAE along with the family.
6. Property Investment
The real estate market in UAE is very mature with numerous projects read to occupy in various prime locations of UAE.
UAE has a wide range of properties available ranging from affordable to luxury penthouses. With the long-term residence visa and property visas tied up to the property purchase in UAE, the real estate market in UAE is witnessing a major growth prospect.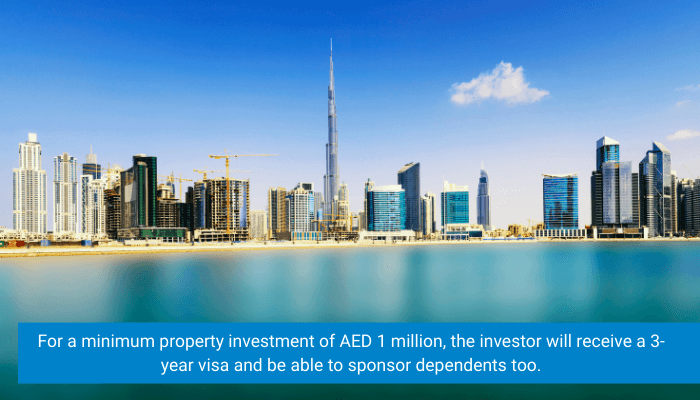 For a minimum property investment of AED 1 million, the investor will receive a 3-year visa and be able to sponsor dependents too. There are certain criteria for property owners to be met for the qualification of a property visa in the UAE.
Also, for properties worth AED 5million and above the investor is qualified for a 5-year golden visa.
To know more read: Property Visa in UAE
7. Employment Visa
Getting employed in UAE will entitle you to a UAE resident visa under the sponsorship of the employer. Depending on the Free zone or Mainland the visa validity is for 3-years and 2-year respectively. For a first-time visitor to UAE getting on employment, the pathway is ideal to get UAE market experience and later venture into setting up a company for themselves.
Along with the above-stated residence visa, under the new development plan and promoting ex-pat living in UAE, there are retirement visa, special work permits for teenagers, residence visa extensions for widowers for up to 1 year, employment visas holding up to 6months, and more.
What is UID Number?
The unified Number (UID) is a 6-digit code that can be found on the entry stamp on the last page of the passport or on the visa sticker. Without a UID Number, one cannot complete the application for Emirates ID.
A UID number is a 9-15 digit unique number that gets assigned to a visitor or tourist or resident. The UID numbers are issued by the General Directory of Residency and Foreign Affairs (GDRFA). UID remains the same even if you change your visa or status from tourist to resident.
It is a permanent unified identity number. UID is located on the visa page right above the file number. Many expats are not aware of the codes and numbers on their residence visa page
How to Check UID Number Online?
UID numbers can be verified online by visiting the GDRFA website. From the home page click on e-Services and click on 'Find my UID'.
Provide the passport number, nationality, date of birth, and other information required, and click on the submit button. The webpage will provide you with the UID Number.
In case you are unable to obtain the UID Number online, visit the GDRFA main center in Al Jaflilya, Bur Dubai, or Dubai International Airport Terminal 3. They can issue the UID number for you after reviewing the request.
How to Merge UID Numbers?
There could be instances where one applicant will be having multiple UID numbers. It is mostly caused due to system errors but could affect your resident visa processing.
Hence, in such cases, the multiple UIDs must be merged into a single UID Number by raising the request for the merging. It will clear the immigration records and only one UID will be active for the applicant.
Follow the below steps to merge the UID numbers
Visit the immigration office in UAE – GDRFA – Al Jafliya, Bur Dubai
Submit the required documents – Passport copy, entry visa copy ( if any)
Old, expired, or canceled visa page in passport and copies – for reference purposes
After submitting the documents for review, the authorities at GDRFA will provide you with the updated UID number that you can use for your new residence visa application, Emirates ID, etc.
So in conclusion, UAE is becoming a family-friendly and expat-friendly location with ample facilities and infrastructure to power businesses of any scale and retain global talent within UAE and boost growth prospects.
To know more about UAE Residence visas and the process of applying, talk to our expert business consultants right away!
Contact Us: Aurion Business Consultants