Social Media Influencer License in UAE – Various Options Available
In the digital space companies and freelancers have to acquire a few social media licenses to expand their business opportunities and legally conduct business activities in UAE. Social Media Influencer License in UAE is a very popular business license among the younger social media enthusiasts.
The Social Media Influencer License in UAE will enable the younger generation to take their passion into a business with all legal protection. It will help them to establish a company and conduct the social media related promotional activities complying to the business legislative authorities of UAE.
How Social Media Influencers Became Popular?
Social Media Influencer License in UAE is one of the most popular ones in the online space currently. With smartphone penetration of more than 90% in the world. Content sharing, creation, promotion, and consumption have become part of our daily routine.
Social Media Influencers Monetize their Creative Content
Social Media Influencers are individuals who monetize on their creative way of sharing content and leveraging the power of instant content consumption, getting popular quickly.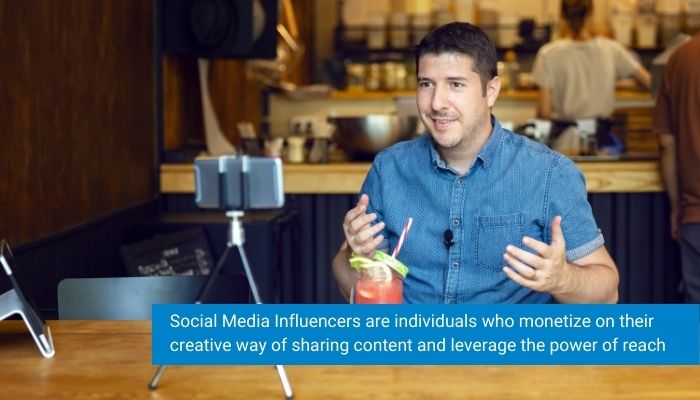 To regulate the commercialization and protect consumers as well as the influencer's interest, the National Media Council (NMC) launched the UAE Influencer license.
Exclusion for Social Media Influencer License
If you are a blogger who solely receives gifts, experiences, and or products in exchange for coverage of brands on your social channels. You will not need to obtain a license or be signed to an influencer agency to operate.
3 Types of Licensing Options for Social Media Influencers
Following are the types of licensing options available for Social Media Influencers:
1. Apply for an individual license and also a trade license to conduct commercial selling activities in the UAE
2. Apply for a partnership license (a small group of influencers-friends or family). Get an NMC special e-media license and a trade license on behalf of the company
3. Signup with an official influencer agency certified by NMC. (Can only work with the signed-up agency)
Influencers that fail to comply with the risk of the new law of having their account shut down and will be levied a fine of Dh 5000.
Low-Cost Social Media Influencer Permits Available in the UAE
1. Influencer Permit by RAKEZ Free Zone
RAKEZ is offering Social Media Influencer Permit for influencers or bloggers residing in the UAE. It is not a trade license but a permit that enables influencers and bloggers to advertise in their social media accounts in exchange for money complying with the UAE laws.
There is no memorandum of association, certificate of incorporation, or partner list for the social media permit.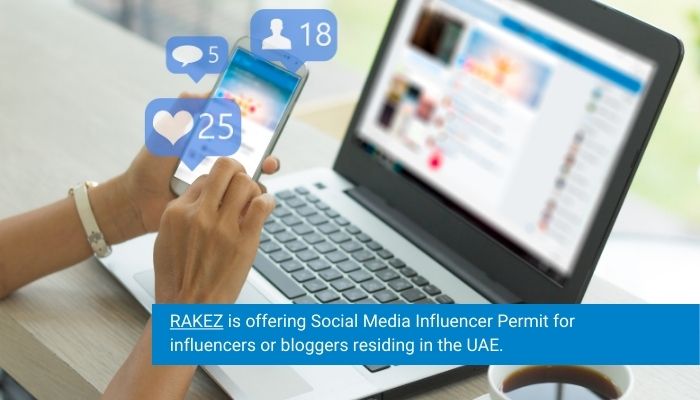 Also, there is no visa eligibility nor any immigration file under the social media influencer permit. Hence, using a Social Media Influencer permit one cannot hire any office space nor open a corporate bank account.
Social Media Influencer or blogger can obtain the Social Media Influencer Permit from RAKEZ for AED 3,550 per year. The package is inclusive of the National Media Council (NMC) permit. It will allow to legally conduct the business activities in UAE without any hassles.
Similarly, a social media license for influencers from the Sharjah Media City Free Zone starts at AED 5,740 for zero visa quota.
2. Social Media Influencer Permit by Ajman Media City Free Zone
The permit is custom-made for bloggers, social media influencers who have to comply with the UAE laws of conducting business.
The Ajman Media City has tied up with National Media Council to issue permits for eligible social media influences to conduct business legally in the UAE.
E-Trader License in Dubai
E-Trader License in Dubai is launched by the Dubai Economy (DED) for home entrepreneurs based in Dubai. The E-Trader License will make it easier for individuals and single-business owners to sell their items online.
DED has launched the initiative to curb counterfeit sales and fake product advertising on social media platforms like Instagram. With the e-Trader license, the online selling sector is expected to be regulated and eliminate all illegal practices.
Who can Apply for E-Trader License?
E-trader license is ideal for those who don't have to require a physical office space to conduct their business. UAE and GCC Nationals and ex-pats of certain other nationalities can apply for the E-Trader License in Dubai.
There are certain regulations in terms of business activities for other nationalities. Commercial Trading activities are restricted to other nationalities. However, services businesses such as lifestyle coaching, marketing services, project management services, etc., are open to all nationalities.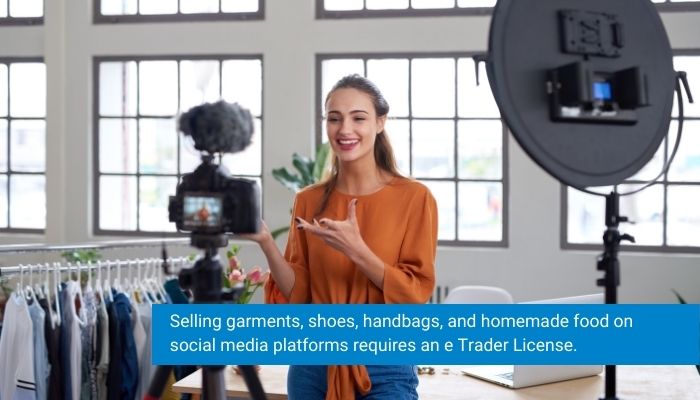 DED Trader license aims at providing an authentic legal backup for start-ups, and entrepreneurs.
It helps those working from home to continue their entrepreneurial journey and contribute actively to the economy. At the same time curb all illegal activities and protect consumer interest.
Do you require a Commercial Trade License Required for Selling Items Online?
UAE residents are eligible to be fined up to Dh 500,000 for selling items on social media without a valid commercial trade license or an eCommerce license.
The purview of Selling in Social Media includes all categories of items including online catering, tailoring, and beauty business from home.
Selling any kind of items ranging from garments, shoes, handbags, and homemade food on social media platforms and WhatsApp groups will come under scrutiny.
Ways to get an e-Commerce License in UAE?
In the UAE, to carry out trade by any means, one must have a valid trade license from the Dubai Economy or any of the Free Zones offering commercial Trade Licenses.
There are two ways to obtain an e-commerce trading license in UAE
Getting an e-Commerce License from the Department of Economic Development in each emirate
Getting an e-Commerce License from any of the Freezones of the UAE
All residents in the UAE intending to sell goods online, be it stay-at-home mothers, part-timers, etc., must have a valid trade license to avoid any fines or legal actions.
Is a Trade License a must for selling Online in UAE?
Over the years, there has been a significant increase in online stores for tailor-made clothes, beauty products, and accessories via online platforms such as Instagram, Facebook, etc.
UAE and the Telecom Regulatory Authority are on a constant watch to locate and shut down unauthorized websites and social pages to protect consumer interest.
The Free Zones such as Sharjah Media City (SHAMS) provide an e-Trader Package for AED 6,510 with Zero Visa quota. The Package allows only two business activities. One eCommerce and the Other is a general trading activity.
So, all those involved in online sales, e-commerce platforms, and utilizing social media platforms to promote sales, have to be compliant with the UAE commercial license requirements to avoid fines or shutdowns.
To know more about the relevant social media and online selling licenses, talk to our expert business consultants
Contact: Aurion Business Consultants