How to start a small business in Dubai?
Starting a small business in Dubai is an activity that will provide a high return on investment for entrepreneurs. There are many small business entities that are successfully operating in various fields in Dubai. The minimum investment to start a business in Dubai is comparatively lower than other business locations.
Dubai is home to a large number of large and small businesses. The Business to Business segment in Dubai is growing at a rapid pace. Many large organizations operating in Dubai are constantly looking at outsourcing a few of their operations to efficient small businesses. It will help in collaboration and knowledge sharing.
Dubai is an ideal choice for small business startups as there is a robust network of investors, venture capitalists, multi-national audiences, and more.
Entrepreneurs test out a wide variety of business ideas for starting a small business in Dubai. There is an advanced infrastructure, numerous networking opportunities, and business support in Dubai that makes it a favorite choice among startups and innovators.
Why choose Dubai for setting up your Small Business Startup?
There are various factors that make entrepreneurs choose Dubai for setting up their small business startups. The government of Dubai has launched a series of welcoming initiatives for freelancers, talented professionals, and entrepreneurs to come and settle in the UAE.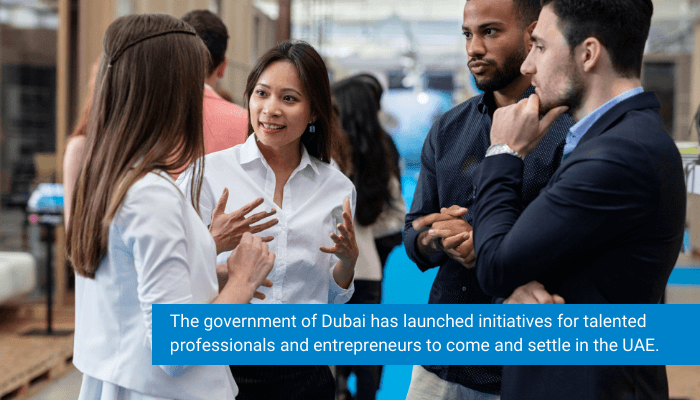 The Green Visa and Golden Visa are such initiatives to attract global talents to make Dubai their second home. Similarly, the Free Trade Zones in Dubai play a vital role in setting up a small business startup. They have various cost-effective company packages that are best suited for startups.
Also, the startups and entrepreneurs operating in the Free Zones of Dubai have many benefits such as:
Start a fully owned company with 100% profit transfer to the home country
World-class office space, warehouse facilities, meeting rooms, and other facilities at the lowest cost
Easy company setup with minimal documentation
Proximity to Airports & Seaports. Certain Free Zones have in-house customs check
Multi-Year license packages, a wide range of business activities, bank account opening support, and more.
Easily expand to international markets and conduct business in UAE.
So, the Free Zones are the best choice for setting up a startup in Dubai. The Free Zones provide support for startups through business incubators. They help with the funding and administration of the startup successfully.
Additionally, the cost-effective company packages from the Free Zones will help entrepreneurs to easily set up their startups in Dubai without any hassles.
Small Business Startups in Dubai – Steps to Setup
The setting up of a Small business startup in Dubai follows a series of steps. It is best executed with the help of an expert Business Consultant to avoid any roadblocks. There are certain procedures involved in setting up a small business startup in Dubai
This is where business consultants will help the investors with the right company package. To set up the startup in Dubai the right way, the investor must follow the below steps
Choose the right business jurisdiction depending on the business requirements, budget, office space requirements, visa quota, etc.
Select the right business activities for the trade license. Ensure the Free Zone or Mainland will permit the selected business activity.
Few activities in the business list will require special approval from the respective authorities.
Finalize on the office space requirements and ensure the availability of various office spaces in the Free Zone.
Submit the documents of the investor for review, make the fee payment, and obtain the Trade License.
Open a corporate account for the startup once the trade license is ready.
So, the steps in setting up a startup business in Dubai are as stated above. The role of a Business Consultant is to facilitate the setting up of the startup and fulfill its administrative requirements.
A startup in Dubai has many business benefits as Dubai is a land of opportunities. The investor has access to a large addressable market in UAE, Asian and European countries. They can easily expand their business to international markets by being in Dubai.
Business Ideas for Starting a Small Business in Dubai
There are many prospective Small Businesses in Dubai that are providing a good return on investment to the entrepreneurs. Some of the business ideas for starting a small business in Dubai with a low or minimum capital investment are the following:
Marketing & Research Consultancy
Health & Wellness Consultancy
IT Services and Software Consultancy
Laundering and Dry Cleaning Services
Real Estate Consultancy
Small Retail Store & General Trading
Food Stuff Trading
Fruits & Vegetable Selling
Scrap exports and re-exports
Automobile Workshop, Spares, and Machinery repair shop
There are a variety of lifestyle business ideas such as wellness, dietary consulting, personal grooming, health coaching & gym training, and more, that can be easily set up in Dubai. There is a growing audience in the region for these lifestyle businesses.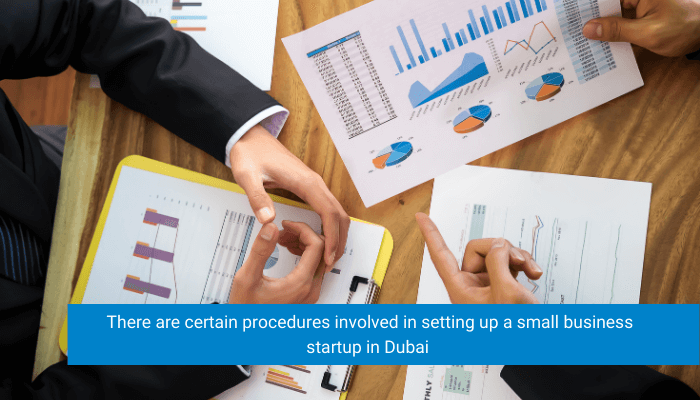 Similarly, the next line of small businesses in Dubai is the essential services for the residential and business community in the region. The laundry, dry cleaning, small food stall, real-estate consultancy, etc., have a large target market to cater to in the region.
It is important to note that the entrepreneur involved in any sort of business must have a valid trade license from the respective authorities. The specific trading or services license depending on business activity must be obtained from the licensing authorities.
Small Online Business in Dubai
The Small Online Business in Dubai is a new category of small business that is significantly growing. These are low-investment businesses that can be easily set up online in Dubai. The investor must have a valid e-commerce License for conducting any sort of online sale in the UAE.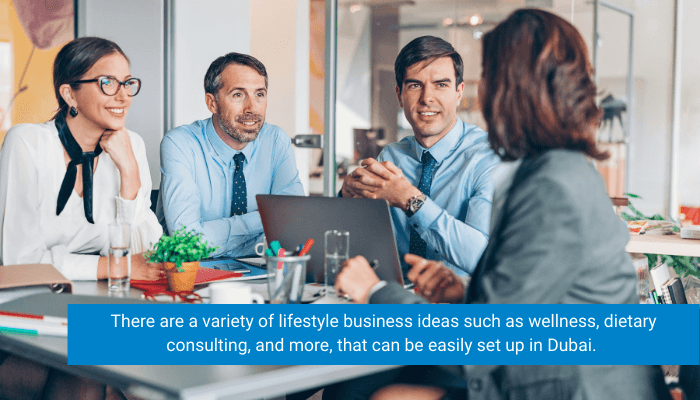 Investors can start an e-commerce store selling items online via social media platforms, e-commerce websites, or fully owned websites. The high internet penetration among the residents of the UAE drives the online shopping trend in the region.
Additionally, the technological advancements and capabilities will help small online businesses in Dubai. It will help them to easily launch their services. Small online businesses can involve in a variety of business activities. A few are the trading of goods, offering consultancy services, providing tutoring services, running a home bakery online, teaching online courses, and more.
Our expert Business consultants will guide the entrepreneurs with the right business license. They will also provide Free Zone choices to keep your overall business setup cost low. Contact our expert team to know more about starting a small business in Dubai right away!
Contact us: Aurion Business Consultants