What is the minimum investment to start a business in Dubai?
Global investors are curious about how they can expand their business to Dubai, so they are always looking for the options available to start a business with minimum investment in the city. This blog will explain the answer to the question – "What is the minimum investment to start a business in Dubai?".
The minimum investment to start a business in Dubai is AED 11,900 for a Free Zone company. There are a host of benefits to establishing a business in Dubai. Well, the minimum investment requirement is based on the nature of the business activity, company location such as Free Zone or Mainland, office furnishing, rental expenses, and more.
Why choose UAE for starting a company?
Dubai is home to numerous small and medium companies operating in various business categories and activities. There is a wide variety of company formation options available in Dubai for entrepreneurs to choose for their business establishment.
The business jurisdiction of UAE consists of the Mainland, Free Zone, and Offshore companies. Dubai is the most preferred business destination for investors due to its strategic location, minimum business investment requirement, and business friendly policies.
What is the minimum investment to start a business in UAE?
In UAE, there are many businesses that can be started with a minimum investment. The cost will increase as the investor require a visa and office space. The foreign investor can start a business in the Mainland of UAE or the Free Zones. Few of the business activities such as retail, trading, real estate, tutoring, etc., are ideal to be conducted in the mainland of UAE.
The minimum investment to start a business in UAE is AED 5,500 for a Free Zone company. The cost will increase if you require a visa and office space. Even though there are many options available in UAE, most of global investors choose Dubai for setting up their business.
For a Mainland Company in Dubai, the minimum investment to start a business will be around AED 30,000 for an LLC Company. The Entrepreneur gets a one-year trade license to operate the business and gain a significant market presence.
They can subsequently renew the trade license or upgrade the business package to multiple visa quotas with Office space as per the requirements. Similarly, for the investors to obtain a free zone trade license with office space and visa quota, the minimum investment for the company in Dubai is around AED 17,900.
For the Office Space requirements, there are FlexiDesk, Shared Offices, Executive Offices, and more at varying rates. Investors can choose the required office space depending on their specific business requirements and budget.
Aurion will assist investors in choosing the right company package with the minimum investment required for starting a business in Dubai.
How to start a business in Dubai? – Steps Explained
Business Setup in Dubai is best to be done using the assistance of experienced Business Consultants. For the foreign investor, Free Zones of Dubai is the No.1 choice for easy set up of a company.
To expand more aggressively and open more branches in the UAE, an LLC Company in the mainland of Dubai is the ideal choice. A Company can be setup in Mainland Dubai with a minimum investment amount of approx. AED 25,000 for a Services company.
The entrepreneur can register a virtual company with no office space for 1 year in the Mainland of Dubai. Also, to keep the investment minimum for starting a business, an ideal option is to go for a Flexi-Desk or No-Office company package with a trade license from the Free Zones of Dubai.
So here are the simple steps in starting a business in Dubai with minimum investment:
Step 1: Choosing a Trade Name and Business Activity
Get the company name approval from the Free Zone or Dubai Economy authorities. The investor will have to choose a trading name and business activity for your company.
Step 2: Prepare the required documents for the company setup.
Arrange for the required documents such as shareholder passport copy, photographs, bank statement, etc. For a Free Zone company choose the right company structure (FZE/FZC) and trade license type.
Step 3: Preparing the Shareholding Agreement
Prepare the shareholding agreement and Partner agreement (for LLC Company) and the Memorandum of Association (for Free Zone Company) and other supporting documents (passport copy, director's profile, etc.)
Step 4: Getting the Required Approvals
Get the required approvals for any specific business activities like pharmaceuticals, education, oil & gas, etc., and submit the approval to the authorities along with other documents specified.
Step 5: Fee Payment and Obtaining the Trade License
Pay the fees and obtain the Trade license from the authorities and proceed to the UAE Residence visa of the investors and the rest of the employees.
Step 6: Business License and Corporate Bank Account
Once you obtain the business license, apply for a corporate bank account to kickstart your business full-fledged.
6 Common Myths vs Reality in Starting a Company in Dubai
Investors across the world come to Dubai as tourists, on business tours, visiting family, friends, and more, and wish to be part of the economic growth of this City. Starting a company in Dubai and settling in the city is always a priority for many international investors.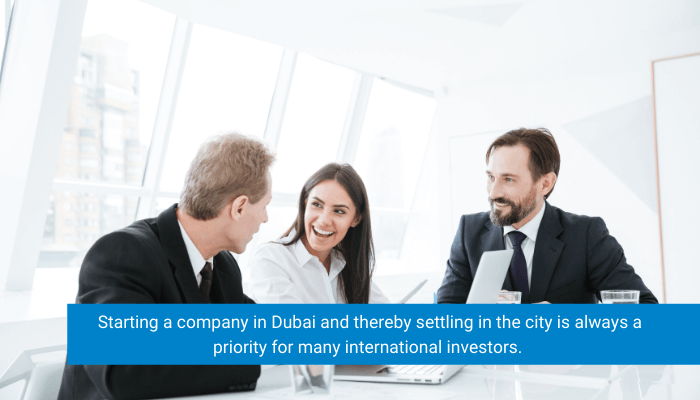 Despite that, there are many myths they have about starting a company here in Dubai. Here is a breakdown of the common Myths and the Reality of setting up a company in Dubai.
Let us analyze a few of the common Myths and their reality based on our decade-long industry experience in the field of company incorporation, business advisory, and support services.
Myth 1: Business Setup in UAE is very Expensive
The cost of setting up a company in UAE is one of the lowest when compared to the European countries and the US and China. A single visa quota company can be set up in UAE for a minimum investment of AED 11,900 in Dubai.
There are various cost-effective options available for investors in Dubai for starting a business for a minimum investment.
For keeping the minimum investment required for starting a business in Dubai the lowest, investors can look at options ranging from co-working spaces, Flex-desk, and shared office spaces. Also, the Department of Economic Development issues an instant license without office space requirements.
Also, there are Freelance permits issued by the Free Zones for individuals in the field of marketing, creatives, consultancy, software development, and more. Investors are left with a host of low-cost business setup options in the UAE.
Myth 2: Obtaining Funding in Dubai is Extremely Difficult
The Dubai Government is very positive toward business and startup growth in the region. The government of Dubai has set up business incubators for startups and small companies to receive funding and infrastructural support for their projects.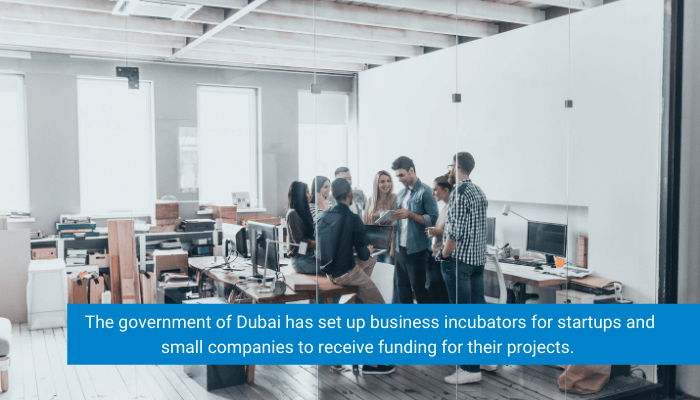 Startups can test, develop, and launch their product in UAE and internationally using the business incubator support. Similarly, many of the Free Trade Zones in Dubai also offer business accelerator programs for entrepreneurs with innovative projects.
Hence there are numerous options for obtaining funding for your new company and keeping the minimum investment required for starting a business in Dubai. at an all time low rate.
All you need is a business plan, a feasibility study of your project, and shareholder details to connect with the funding houses for the project.
Myth 3: Business License in UAE is Complicated
To obtain Business License in UAE, the investor needs to follow a few straightforward steps. To avoid any hassles it is best advised to take the assistance of an expert business consultant such as AURION.
The documents for setting up the company must be submitted to the specific Free Zone or mainland authorities for the smooth processing of the company trade license in the UAE. Few selected business activities will require special approvals from the Authorities.
For example, healthcare, education, gold trading, etc., will require authority permits for processing the trade license request. Special Approvals can be easily obtained by providing the right documents as support of the permit request.
Myth 4: Knowledge of Business and Tax Law is Must for Business
Business owners and entrepreneurs must have a basic understanding of the various tax laws and company laws in the region. However, in-depth knowledge of all the business laws in the UAE is not a mandatory requirement for starting and operating a company in UAE.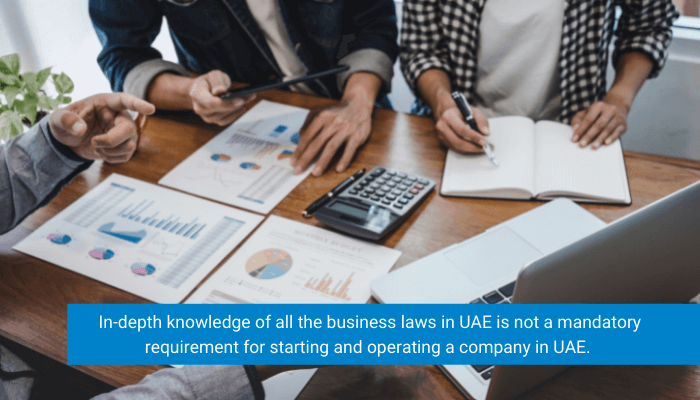 As long as the company is conducting fair trade practices and follows the laws stated by the UAE Government, the company can easily continue its trade operations in the region and also conduct International trade.
Myth 5: Mainland land Business requires a Local Sponsor
With the recent amendment in the Company Law, there is 100% expatriate ownership available in Mainland Businesses. So there is no requirement for a Local Sponsor or Local Service Agent for opening a mainland company in UAE.
The new amendment is expected to drive more foreign investment to the mainland of UAE and further power the economic growth of the region.
Myth 6: Offshore companies are only for tax evasions
Offshore companies are legal entities that are non-resident companies registered with UAE Free Zones. Three Free Zones Authorities offer Offshore Company Formation in UAE and they are Jebel Ali Free Zone (Dubai), RAKICC (Ras Al Khaimah), and Ajman Offshore. Offshore companies are registered mainly for driving international business operations.
Tax Savings is one of the business benefits of the Offshore company setup. An offshore company is ideal for remote work operations and also as a holding company to channelize all the wealth of a business group.
Hence, in a nutshell, company formation in Dubai, UAE is a hassle-free process, especially with the assistance of AURION.
Foreign investors can easily set up their business in UAE and gain International business presence and growth with minimum investment in Dubai. UAE has it all for businesses and investors to work, live, and settle for a long time peacefully and profitably.
To know more about Company Formation in Dubai, UAE, talk to our expert Business Consultants right away!
Contact Us: Aurion Business Consultants