What is a Holding Company in UAE?
A Holding Company in UAE is an establishment that will act as a parent company for its subsidiaries and branch companies. The Holding Company will not be involved in any income-generating activity.
They will only manage, monitor, and retain ownership of the assets of their branch companies. A holding company in UAE will be acting like a headquarters and will have only administrative functionalities.
The Holding Company will have a board of directors who will decide on the shareholding pattern across the subsidiary companies. Also, they will have provisions to decide on strategic plans such as a merger or sale of a subsidiary or asset, etc.
Opening a Holding Company in UAE – Highlights
A holding Company in UAE can be opened in Free Zones and also in the Mainland. As per Commercial Company Laws, there are certain requirements for opening a Holding Company. The lowest Cost of Opening a Holding Company in any of the Dubai-based Free Zone is around AED 14,900 with a one visa quota.
Across the Free Zones and in the Mainland, the requirements are almost similar for opening a Holding Company. Firstly, the company must have subsidiaries and branch companies to manage.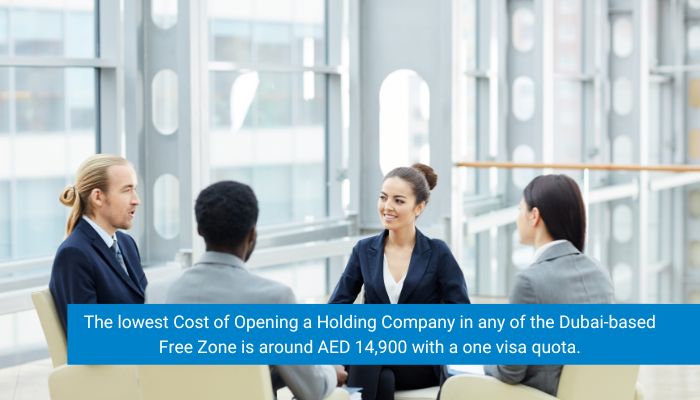 A holding company can also be registered without a subsidiary subject to certain approvals from the licensing authority.
For example, for real estate ownership, Intellectual Ownership, financial investments, etc., a holding company can be set up without the subsidiary or branch companies in UAE subject to approval.
Benefits of Opening a Holding Company in UAE
The Holding company will only own the subsidiary company and its assets. The management, operations, and income generation are all by the subsidiary company itself. The parent company or holding company will not intervene in any operational parameters of the company.
Holding companies are not permitted to conduct any form of business activities that earn revenue. Activities such as selling, manufacturing, exporting, directly managing assets, etc., must be handled by the subsidiary company only.
Generally, there is an increasing demand for opening a holding company in UAE from foreign investors having branches and subsidiaries all over the world. It is driven by the many benefits in setting up of a Holding Company in the UAE.
Following are few of the benefits for the investor from opening a Holding Company in UAE.
1. Effective Tax Structuring
A Holding Company in UAE is an effective way of Tax Structuring and protecting the Company Assets. The parent company will have almost 100% control over the company's resources and assets.
Also, Holding Companies are becoming more popular with the introduction of a 9% Corporate Tax in the UAE. Hence, any restructuring of business must not be aimed at saving tax.
Additionally, opening a Holding Company in the UAE is an intelligent way to channel the company's wealth and assets to secure them.
2. No Intervention in Business Operations
There is no intervention of the holding company in any of the business operations of the subsidiaries or branch companies. They all operate at their levels and are governed by their leadership teams.
3. Complete Ownership of Shares
A holding company can hold 100% shares of all its subsidiary companies and also own the assets. The Ownership of all the subsidiaries vests with the Holding Company.
Thereby, the investor can limit their losses in case one of the subsidiaries is not performing well. The management of the subsidiary must absorb the losses and there will not be any funding from the Holding Company to the subsidiary in most cases.
4. Own Multiple Lines of Businesses
By having a Holding Company the investor can effectively own and manage multiple lines of business. Often business activities will be very diverse and will have multiple business licenses such as services, manufacturing, education, etc.
For example, if a business wants to run an educational training centre, offer business consulting services, and enter into the foodstuff manufacturing business. They will have to opt for multiple business licenses and operate the business lines.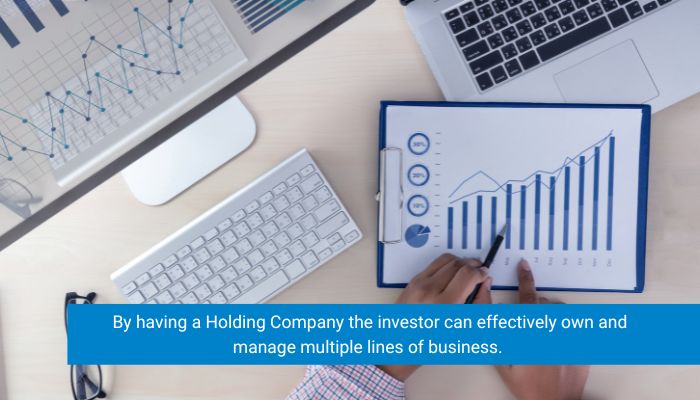 So, a holding company will help them to manage all the company assets of their business lines together as a single one. Also, retain the brand name and logo across multiple business lines.
5. Residence Visa and Bank Account
A holding company in UAE is similar to another other company structure. Hence, there is a provision for Zero visas to up to 6 visa quotas or more depending on the Free Zone or mainland.
The holding company can have their visas for employing staff for the head office. Also, the holding company can open a corporate bank account with the business license they have in UAE.
Process of Setting up a Holding Company in UAE
The process of setting up a Holding Company in the UAE is similar to any other company opening process. However, there are a few steps to follow to set up a holding company in the UAE.
1. Choosing the right company structure and business location
The first step in setting up a Holding Company in UAE is to decide on the shareholding structure and no of shareholders/board of directors in the company. Then choose the right business jurisdiction – Free zone or Mainland.
It also depends on the nature of business activity, shareholder preferences, and business requirements.
Opening a Holding Company in the UAE Free Zone vs Mainland
For international trading companies with Free Zone subsidiaries; having a Free Zone holding Company is advisable. Similarly, if the holding company is created for ownership of intellectual property, financial assets, property purchases, etc., a Free Zone seems an ideal choice.
Consequently, for businesses that have a strong presence in the mainland such as hotel chains, retail outlets, trading companies, etc.; it is best to get a holding company opened in the UAE Mainland for easy management and monitoring of the assets.
2. Meeting the requirements
For opening a holding company in UAE, there few requirements set by the licensing authorities. The company structure between the holding company and the subsidiary company must be legitimate. Also, there are few more requirements to be fulfilled such as:
Subsidiary companies must have adequate substance to prove they are having real business operations in the UAE.
Holding company must have a director board for making policies for all its subsidiaries. Also, the subsidiaries must have directors, employees, and office activities in the UAE.
Furthermore, the subsidiary company must maintain ample capital to operate sustainably, there must be proper contract and service level agreements for knowledge transfer, intra-group services, arms-length pricing, etc.
The director board must provide the right guidance and directives to subsidiary companies timely to avoid loss in operations.
3. Submitting the documents and Making the Fee Payment for Holding Company License in UAE
Once the company structure is formulated, submit the required shareholder details, a short business profile, investor details, subsidiary and branch details, etc., to the licensing authority for review.
Make the required fee payment along with the document submission. After the review process, within 3 to 4 working days the investor will receive the Holding Company License in UAE.
At this stage, the investor can also take an office space for their holding company. The Free zones have special packages for holding company formation with an office space. AURION will assist you with setting up the holding company with an office space in UAE in the most hassle-free way.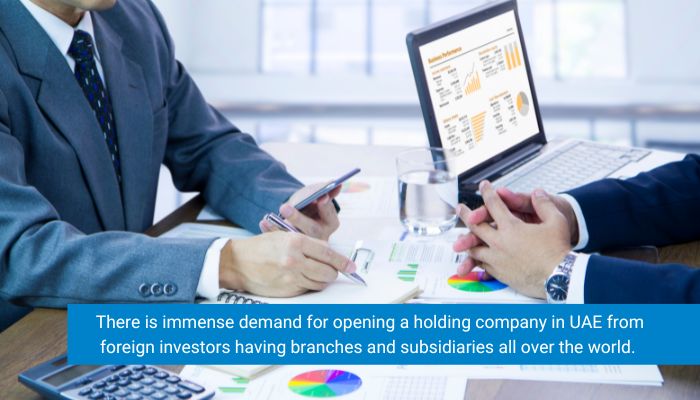 Once the Holding Company License is obtained by the investor, they can proceed to open a corporate bank account. They can also process the required employment and investor visas ( if required) depending on their selected company package.
Opening a Holding Company in UAE will help investors for any future expansion into franchises and branches, as the holding company structure is ideal for better asset administration and management.
Similarly, there are many advantages such as tax savings, internal employee transfers, better control of assets, and more.
To know more about opening a Holding Company in UAE, connect with our expert Business Consultants right away!
Contact Us: Aurion Business Consultants