Software Development Business License in UAE
Information technology in UAE is a booming industry sector with more and more entrepreneurs intending to establish their software development company in the region. Software Company License in UAE is being offered by most of the Free Trade Zones and the mainland for professionals in the field of IT and Software Development.
Software Development Business License in UAE starts from as low as AED 8,050 for a zero visa quota license. The Software Company License in UAE is in most demand from the global investors as there is a growing opportunity in the digital and IT transformation sector in UAE.
Depending on the business requirement the investor can choose from the wide range of business license types and activities in the region.
Obtaining a Software Development Business License in UAE
UAE has grown into a major IT hub of the Middle East and many multinational software companies have opened subsidiaries in Dubai.
Large IT Companies set up HQs in UAE to oversee and manage the Middle East and North Africa (MENA) as well as the Asian region. The Software Company License in UAE allows IT Companies to legally get involved in the consulting, development, and selling of IT services and products to other companies and third-party support systems.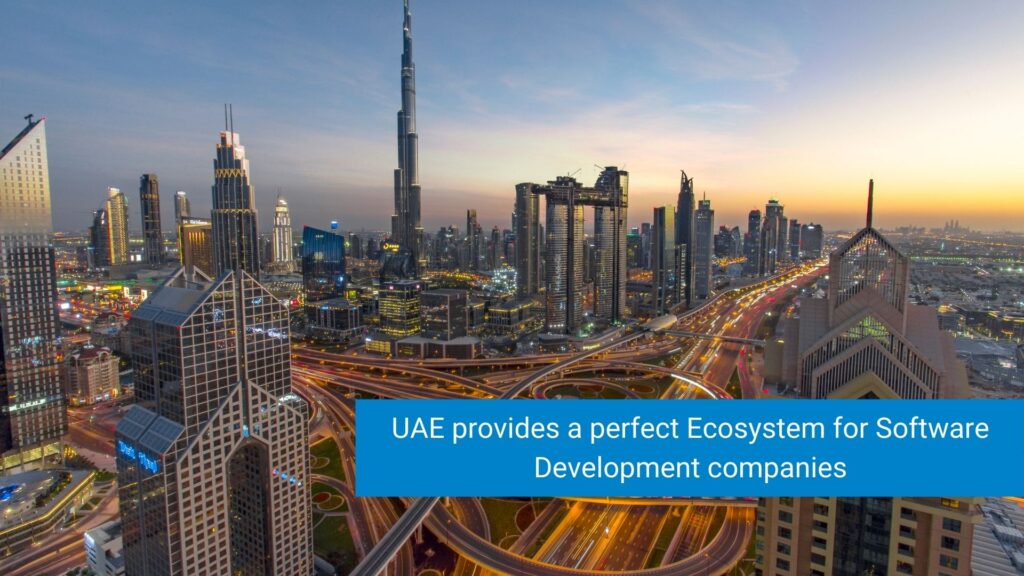 Obtaining a Software Development Business License in UAE is similar in process to procuring any other business license.
There are dedicated Free Trade Zones in UAE that issue Software Development License in UAE for business activities such as Information Technology, Software Development, Application Testing, and Research & Development, and so on.
Growth Drivers for Software Development Companies in the UAE
The enormous Government Support towards information technology, artificial intelligence, innovation, makes UAE at the forefront.
UAE provides a perfect ecosystem for Software development companies with growing business opportunities and demand from the corporates in the region.
IT Market Growth in UAE
UAE is driven by technology and innovation, the IT spending in UAE is expected to grow by a CAGR of 8% to reach AED 23.1 billion by end of 2019 – As per the Dubai Chamber of Commerce and Industry Report.
Annually the IT spending is expected to grow at around 7.2% over the next five years.
The growing number of Free Trade Zones in the UAE offers a wide variety of cost-effective company setup packages for the Software Development companies in the region.
Also, specific Free Zones are catering to entrepreneur requirements of setting up a company in the following sectors – information technology, software development, artificial intelligence, computer programming, research & development, etc.
List of Free Zones in UAE Issuing Software Development License in UAE
Here are a few Free Trade Zones that are offering Software Development License in UAE for business activities such as IT, Software Development, Web Programming, etc.
These Free Zones offer a host of business activities that the entrepreneur can choose to establish their IT or Software Development company in the UAE.
Dubai Silicon Oasis consists of a Digital Park which houses IT and Software Development companies to power the innovation in the region.
1. Dubai Silicon Oasis
Dubai Silicon Oasis consists of a series of Start-up Incubators, a Software Program Testing Centre, an Innovation hub, and a dedicated IT ecosystem to support the IT startups.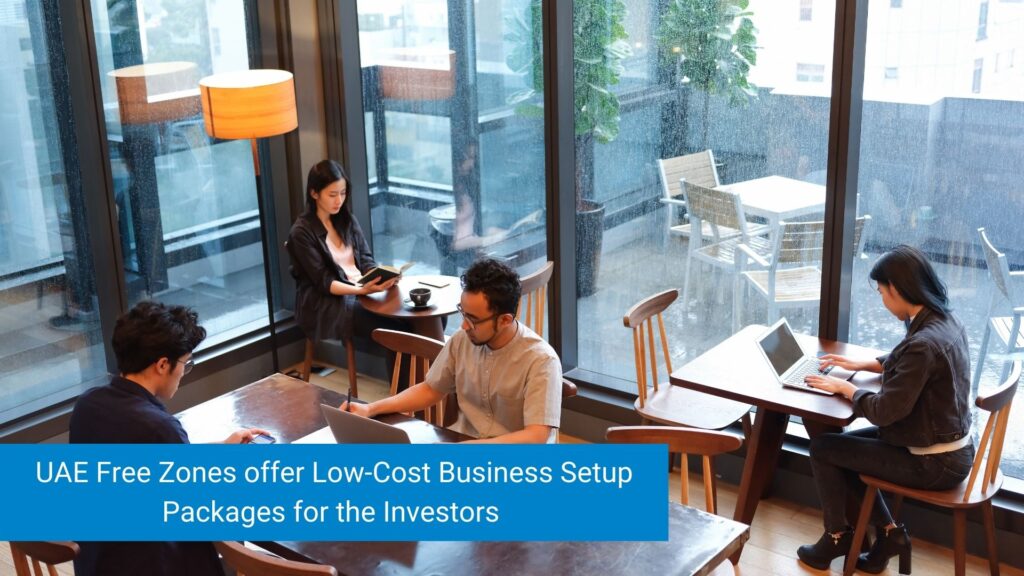 The Digital Park consists of eight office buildings ranging from flexible office spaces to staff accommodation, and smart services.
Large IT organizations can take advantage of the customized office space requirements and easily scale up their business at the Dubai Silicon Oasis Free Zone.
2. Dubai Technology Entrepreneur Campus (DTEC)
Dubai Technology Entrepreneur Campus (DTEC) makes it the ideal hub for software and information technology companies.
DTEC offers a wide range of business setup packages to suit all entrepreneur requirements.
There are various office types available in DTEC ranging from Flexi desk to fully furnished office spaces (12-50sqm). DTEC is a perfect co-working space for Software Development Companies and IT startups to collaborate and work together.
3. International Free Zone Authority (IFZA) Dubai
The International Free Zone Authority (IFZA), Dubai has now Co-branded with the Dubai Silicon Oasis Authority to provide low-cost company setup offers to the entrepreneurs looking to set up their base in Dubai.
IFZA Dubai offers specific business activities for software development companies such as:
Software Program Development
IT Consulting
Software Programming
Technology Equipment Sales
IT Trade
Network & Server Programming
Web Programming & ECommerce
and more.
IFZA Dubai is one of the most dynamic and fastest-growing Free Zones in the region. It offers all the infrastructure and business setup support to new entrepreneurs to realize the dream of setting up a business in Dubai.
Benefits of IFZA Dubai
Easy IT Company Setup in Dubai – Get your company registered in 2 days
100% foreign ownership and full profit repatriation to overseas/home country
No corporate or personal income tax
No requirement of paid-up capital
Well-developed Business Ecosystem – Incubators, Investor Funding, Innovation Hubs, Trade Shows, business network
Investor visa for three years and settle in UAE with family
Easy corporate bank account for your IT Company and smooth operations of the business
To know more about the latest Company Setup Package from IFZA, Check out here.
4. Sharjah Media City (SHAMS) Free Zone
Sharjah Media City (SHAMS) is a dynamic Free Zone in UAE offering a range of attractive company formation packages and a host of business benefits to the investors.
It provides the entrepreneurs with a choice of office spaces from the shared desk (Flexi-desk), to the shared office and dedicated office (9-50sqm fully furnished office).
The robust ecosystem of media, IT, Trading, Consultancy companies, and the business network within the Free Zone makes it an IT and Media hub of the region.
SHAMS is a perfect hub for start-ups and new entrepreneurs to easily set up their business.
Start your business establishment in SHAMS with as low as AED 8050 and choose from a range of business activities and experience the world-class infrastructure.
To know more about setting up a Software Development Company in the UAE, talk to our expert Business Consultants right away.
Our team will guide you the right way and design the right company formation package for your company.
Connect with us today itself! Contact: Aurion Business Consultants