Education Technology Start-up in the UAE – Tackling the Growing Demand
The Education Sector is focusing on developing technology-driven teaching methods over the past few years.
On a global scale over the past few years, Approx. USD 18.66 billion were invested in education technology driven by the demand from schools, colleges, and universities.
With the pandemic, distant learning and digitally focused learning has become mainstream. The World Economic Forum suggests that demand for technology skills will continue to grow by 20% by 2025.
Growing Technology Investments in Education Sector of UAE
The tech-savvy generation is highly dependent on technology and devices to fulfill their requirements.
Even the educational sector has witnessed an increasing demand for technology. Innovative learning practices using Augmented Reality and other software application is the trend now.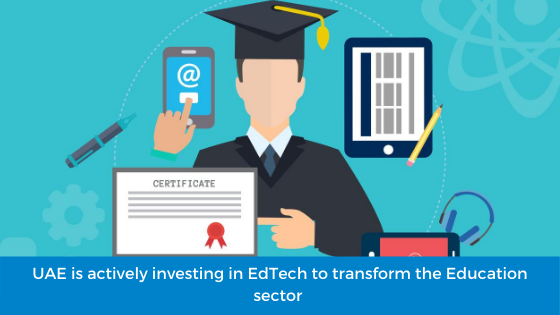 Technavio forecasts the education sector in the UAE to grow at a CAGR of 4.74% between 2018-2020.
How are the Future Schools Embracing Educational Technology?
1. Bridging Communication Gap
The modern education system aims at merging the communication gap between parents and teachers.
Interactive apps and platforms enable busy parents to connect with teachers and view the performance of their kids on a periodic basis.
It helps in providing required guidance and support to the children.
2. Re-Modeling the Classrooms
The traditional blackboard based teaching is bygone. Now it is the age of digital classrooms. The smart blackboard and activity board keeps kids engaged better.
Also, for professional education, there is an immense opportunity by bringing the internet to the classroom.
The classroom is turned to a platform for solving real-world problems now with onsite consulting on technologies such as virtual reality and 3D printing.
3. Immersive Learning Experience
Virtual Reality is being widely used in educational institutions currently. It is estimated that the Global Virtual Reality Market in the Education Sector is to grow at a CAGR of 59% (2018-2022).
Many universities have VR labs with applications for supporting medical students, robotics, etc., to conduct simulations, studies, and tests.
4. Artificial Intelligence Backed Learning
Artificial Intelligence has a very huge opportunity in the education industry. AI is currently in the early phase of adoption in the classrooms.
With the power of advanced analytics and AI, it will help in simplifying complex textbooks and guides into interactive smart content programs.
Also, analytics will help in identifying the kids' liking, preferences, behavior, etc., and devise the right methods to make them actively participate in the classes.
So, in a nutshell, there are immersive opportunities in the field of EdTech for entrepreneurs to conceptualize their startup ideas.
Immense Opportunity for EdTech Startup in UAE
There is an immense demand for interactive and custom content in the education sector ranging from kindergarten to professional colleges.
Comprehending information from academic books and research papers into engaging digital content is the current trend.
There is a huge demand for applications and platforms that offer interactive, innovative content creation, and knowledge sharing.
Gamification increases student engagement and advanced analytics technology along with graphic design principles helps in creating platforms that will enable students to explore new concepts in an interesting way.
Digital Innovation and Technology Integration – Transforming Education System in UAE
Digital innovation and technology integration are key pillars that transform the current educational system.
The smart classroom consist of a wide range of technology solutions starting from:
Connected Campuses
Digital Student Records,
Cyber Security Systems, Tablets, & Digital Collaboration Tools,
High-Performance Research and Development Labs,
Learning Experience Centers, etc.,
UAE is investing heavily in its education technology to bring in digital transformation in all schools and educational institutions.
How to start an Edtech startup in UAE?
As e-learning becomes the new-norm, schools and colleges are looking at interactive ways to engage the students digitally.
The Edtech startups with engaging applications and software to support the online education scenario to make the sessions exciting.
Starting an EdTech company in UAE is relatively easy and follows the general company formation process. However, it requires additional approval from the Knowledge & Human Development Authority (KHDA) Dubai.
To know more, read: Starting an Education Training Centre in UAE
Dedicated Free Zones for EdTech Startups
For starting an EdTech company that supports educational institutions with smart classroom applications and products, the best choice is to go with any of the free zones of the UAE.
They offer customized all-inclusive low-cost license packages that includes company license, office space, other benefits, and access to world-class infrastructure.
The Mainland of UAE – Right for Training Centres
If the entrepreneur is interested in opening an EdTech company with a training facility, testing laboratories, and learning centers, then mainland of UAE would be the ideal choice as students can easily enter your premises.
Most of the Free Zones in the UAE are mostly gated and secure. It has the customs checkpoints and other strategic sectors at the premises that require security.
Having said that, there are few free zones in UAE like the Sharjah Research Innovation and Technology Park, Dubai Knowledge Park, etc., that are dedicated to promoting educational activities in UAE.
Hence, the business prospects for an EdTech Startup is enormous in the UAE. To know more about starting and Educational Technology Startup in UAE, reach out to our expert team right away!
Contact: Aurion Business Consultants