How to Get a Heavy Equipment Trading License in UAE?
UAE is one of the ideal locations for the Heavy Equipment Trading, Commercial and Manufacturing sectors due to its robust business ecosystem and global connectivity.
UAE is a major logistics hub and a trade center. It facilitates import-export to more than 180 countries across the world.
UAE – The ideal location for Heavy Equipment Trading
Also, UAE's economy is driven by the growth in the construction, real estate, tourism, and infrastructure sector.
So, there is a growing local demand for Heavy Equipment Trading in the region.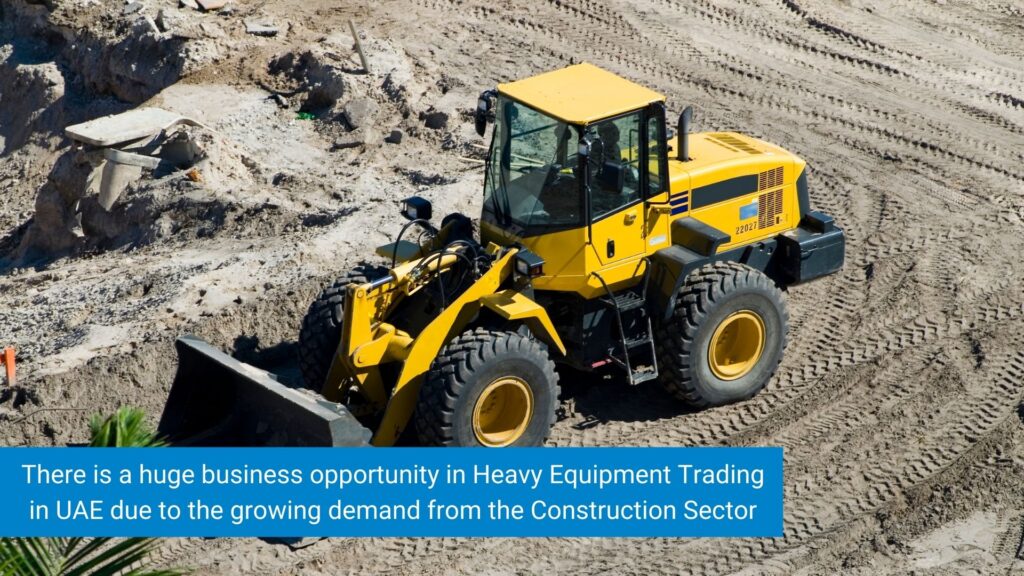 The well-connected shipping lines and airline routes have made UAE the best choice for setting up heavy equipment machinery trading and setting up a manufacturing center with a global distribution network in the region.
Heavy Equipment & Machinery Rentals – A Sub Category
Heavy Equipment & Machinery rental is a booming sub-category in UAE due to the growing demand for heavy equipment in the field of construction.
The construction sector in UAE is vast and there is a constant requirement for heavy equipment such as cranes, heavy-duty trucks, concrete mixers, etc.
The industrial and commercial sector is another sector where the heavy equipment requirement is growing. Large manufacturing plants and warehouses license in UAE are in high demand to meet the local business requirements.
Advantages of Starting a Heavy Equipment Rental Business
Heavy Equipment & Machinery purchases require a huge investment and easily it can go up to a few 100,000 dollars.
So, to complement the primary business activity, starting a heavy equipment rental business could help the Heavy Equipment Trading Company to expand their service offering.
Customers who do not want to spend too much money on buying the product can instead use them as rentals for a fee per hour/ per project contract accordingly.
Also, renting used heavy equipment & machinery can further help in growing the business and keeping the initial investment lower than purchasing new equipment and selling it or renting it out.
Industry Demand for Heavy Equipment Trading
So, equipment like forklifts, refrigerators, and other industrial machinery would be required in large numbers to meet the industrial requirements in the region.
Now with Expo 2020 on the onset, the real estate, tourism, and infrastructural facilities in UAE are getting a major enhancement to handle a large number of visitors coming into UAE.
This is a major boost to the heavy equipment machinery trading as the demand for the equipment is at sky-high
Key Business Activities – Heavy Equipment Trading
Under the Heavy Equipment Trading, there is a various specific business activity that investors can venture into depending on their requirements.
Heavy-duty refrigeration units for cold storages and warehouses
Air Purifiers, Filters & AC Duct Cleaning Equipment
Metal Cutting and Forming
Food & Beverages Processing, Cleaning, and Sorting
Tobacco Processing
Textile Apparels & Leather Productions
Lifts & Escalators Installation
Automobile Washing Equipment
Electric Generators, Switchgears,
Water Pumping, Sewage Treatment, Boilers.
and more
Setting up a Heavy Equipment Trading Company in UAE
In UAE there are few company structures available to set up a Heavy Equipment Trading Company. The major ones are the below
1. Limited Liability Company
2. Sole Establishments
3. Civil Company
4. Trading License from Free Zone
Limited Liability Company
As Heavy Equipment & Machinery Trading is a highly capital-intensive business sector, registering a limited liability company in UAE is beneficial to the investor to separate the company liabilities from personal wealth.
For a heavy equipment machinery Trading license in Dubai, the cost is approx. AED 25,000. The steps in setting up a Heavy equipment trading company are similar to any other company.
Read more: Finding a Local Sponsor for an LLC Company Setup
Sole Establishment and Civil Company
In the mainland of UAE, there are two more options to set up a Heavy Machinery Trading Company. In the case of Sole Establishment and Civil Work Company, there is no requirement of a UAE National Sponsor for setting up the company.
However, a local Service Agent is required to be appointed as the contact person for the company and the contract has to be submitted to the authorities to get the business license issued.
Heavy Equipment Trading License from Free Zone
Obtaining the Trading License from Free Zone for a Heavy Equipment License is a favorable option to keep the business setup cost low.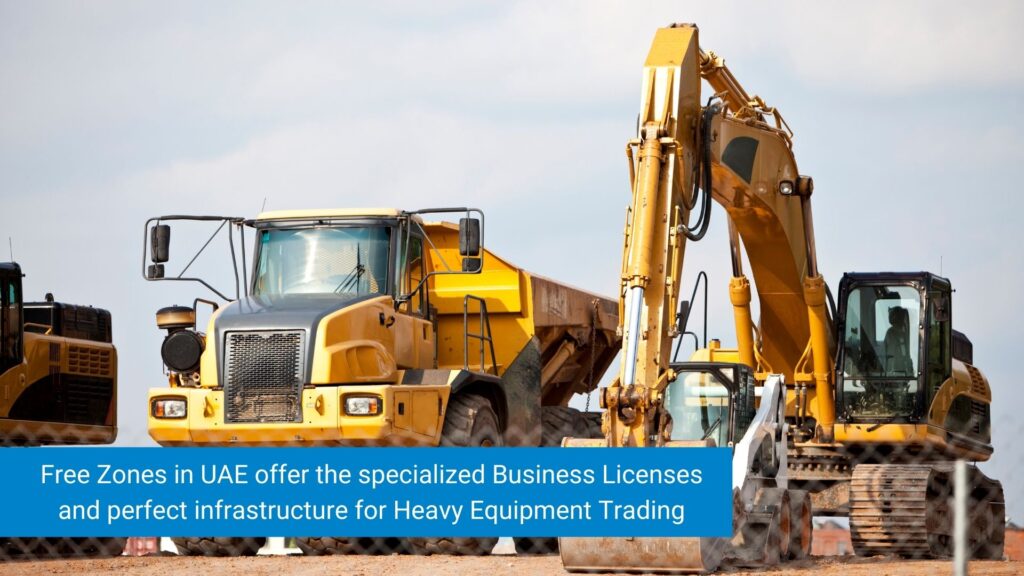 Various Free Zones in UAE offer the specialized Business License Types and the perfect infrastructure support for heavy equipment trading at a cost-effective fee in the region.
 Investors can choose the Free Zone based on their exact business requirements, office space, and budget.
Our expert Business Consultants will assist you in choosing the right Free Zone for setting up your heavy Equipment Trading business in the most comfortable way in UAE.
Connect with our expert team to know more!
Contact: Aurion Business Consultants